The audience in Ford Hall in the Ithaca College James J. Whalen Center for Music roared with applause as the performers took the stage April 22. Conductor and graduate student Alex Gutierrez even received a standing ovation from members of the crowd as he walked out to his place in front of the orchestra.
"The Hunchback of Notre Dame" marks Gutierrez's final show at Ithaca College and the last production ever to be led and put on by a student in the Master of Music in Conducting program. Gutierrez will also be the last graduate of the program, which will be discontinued by the college after the 2022–23 academic year comes to a close. Musicals in concert have been held toward the end of every spring semester since the program began. 
Gutierrez said that while it is bittersweet to be in this position and be graduating so soon, he is happy with the way the show has turned out.
"It's sort of insane, both in a good way and a bad way," Gutierrez said. "I mean, since I'm the last one, I've gotten to do so many things and go so much bigger than we've ever been able to do before. I mean, this would never have been possible four or five years ago. … But at the same time, it's a little sad to see that this is going to be the last one." 
Christopher Zemliauskas, associate professor in the Department of Music Performance, has been working with Gutierrez for the majority of his time as a student at the college. Gutierrez belongs to Zemliauskas' studio and Zemliauskas observed rehearsals for "Hunchback" in order to give Gutierrez notes.
Zemliauskas said he is proud of all Gutierrez has achieved and how this production has brought together the recently merged School of Music and Department of Theatre Arts. 
"While I'm disappointed to see the program suspended, I'm very happy [Gutierrez] was my final student … and am extremely proud of him," Zemliauskas said. "It truly is a culmination of all of the skills [Gutierrez] has worked on over the years. … 'Hunchback' is a special show for me, personally, so I am really happy to see it being produced at such a high level in our extraordinary program."
Gutierrez expressed a similar sentiment as Zemliauskas, saying that the musicals in concert have been an opportunity for the Center for Music and the Department of Theatre Arts to really merge together.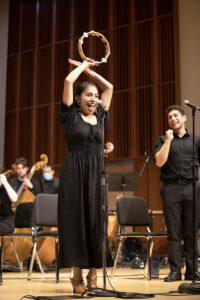 "I've been here six years and these concerts have always been a highlight," Gutierrez said "I know everybody loves to use this phrase over the last year and a half, but it really does bring the two schools together. And there's a connection that you get because there's all the music kids that go over to play the shows in Dillingham [Center], but the Dillingham kids never really get to do a show here in Whalen, and this is that opportunity."
The original stage production of "The Hunchback of Notre Dame," which is based on the 1833 Victor Hugo novel of the same name as well as the 1996 Disney animated film, debuted back in 2014. Since then, the show has been performed all across the country. Gutierrez was the assistant music director for a production of the show at The REV Theatre Company in Auburn, New York, in summer 2022 and said he wanted to do the production again, this time as a musical in concert with a full choir, which is exactly what was able to happen. Gutierrez also said he chose this show in particular for its timeliness and its important messaging of recognizing prejudice within yourself and in others and coming to terms with what that means. 
"I think it's a really important story to be telling right now, dealing with racism and genocide and religious persecution and so many things that are just still so prevalent in the world, let alone even just on our campus or in this building," Gutierrez said. "There's this question that's asked at the beginning of the show and at the end of the show of, 'What makes a monster and what makes a man?' And that's sort of what we've been revolving around … because I think really what the show is about is examining your own bias and examining and pointing out the bias of others around you and making you aware of that and figuring out 'Is that good or bad?'"
In addition to requiring actors to stand at mics and wear all black, musicals in concert like "The Hunchback of Notre Dame" feature an orchestra — and chorus, in this case — onstage. As musical theatre majors, the actors in the main roles and ensemble auditioned for the production at the beginning of the semester, but the chorus is composed of the members of the Ithaca College chorus. Gutierrez said that what makes this kind of production particularly special is the ability for these musicians to be seen in plain view and in the same space as other performers.
"You know, as people who are always under the stage or in a pit or behind the stage or always in black, I think it's nice for them and for me to be able to share that with people and sort of let people get a sense of what it really is to be a musician for theater or what it is to be a conductor for theater or music director for theater."
Senior Oscar Izenson, a musical theatre major, played the titular character, Quasimodo. Extended raucous applause followed his performance of "Made of Stone," one of the last songs of the show and a heartbreaking but crucial turning point for his character. Izenson said that because this show is so dark, it was important that the creative team took so much care in their work and felt appreciated during rehearsals.
"I think [Gutierrez] cares a lot about the piece and he has a really clear and specific idea of … what he thinks is important about doing the piece and I think he made that very clear on the first day of rehearsal," Izenson said. "I just think it's cool that it's not just that it's collaborative from an acting standpoint … but it's also collaborative from the standpoint that everyone in the room is respected as an artistic presence and can chime in if they feel like something doesn't make sense or they feel like they have an idea that could clarify a moment."
[slideshow_deploy id='47462′]
Senior Erica Reyes, a musical theatre major who played Esmeralda, said that with the heaviness of the musical's content, the love and attention the cast, musicians and creative team paid to the material was something new that she appreciated.
"I'm proud of this story we're telling," Reyes said. "We're telling it truthfully. … There's no hiding from it. … I'm just proud of all the work that everyone has put into creating this show and creating these characters so that we could tell this story the way it should be told."
First-year student Eli Vanderkolk, a musical theatre major, played Captain Phoebus de Martin. After Reyes brought up the initial difficulty of actors not being able to look at each other while singing, Vanderkolk said not having props or a set can make it more difficult for actors to do what they need to do for the story because they have less to work off of. He said that while that was initially a bit of a struggle, ultimately everyone put in the necessary work to help convey the story they wanted to tell and create a successful production. 
"We've really narrowed down what it means to be able to tell the story in a very specific and meaningful way without those props and everything else that can help us," Vanderkolk said. "And I feel like because we've reached that, that's going to really resonate with the audience and allow the audience to really connect to what the actual story and the meaning of it is."