On Nov. 6, 2022, the Ithaca College women's soccer team claimed the program's first Liberty League title. This season, the team is ready to solidify its conference champion status once again. 
With a 13–4–4 overall record — and a 6–2–1 record for in-conference play — the team fought its way to victory, avenging the championship loss to William Smith College from the previous season and making program history. 
Junior goalkeeper Grace Hickey noted the significance of that win and said the team mentality is geared toward repeating that success this fall.  
"Everyone worked so hard, and I knew that we really deserved that win, especially against William Smith," Hickey said. "There's no other team that we'd rather take down. They had a 14-year win streak going for the Liberty League title, and now we're happy it's ours and we want to keep it that way." 
Senior forward Rosie Bostian, who scored a team-leading eight goals last season, echoed Hickey in her belief that this roster has the determination and the talent to have another strong season. 
"I think everyone's just really excited," Bostian said. "I mean, we're coming off a huge win in the Liberty League, but I think we still have something to prove. The past two years we have lost in the first or second round [of the NCAA tournament], which has been hard, but I think everybody's ready to compete."  
Entering her 30th season with the program, head coach Mindy Quigg outlined her goals for the squad this season, which includes a top two finish in the conference standings.
"We really like to take things one step at a time," Quigg said. "Our immediate goals really are to get [the players] connected with one another, make them feel safe, part of the process and get everybody on the same page in person." 
With a one-day-at-a-time mentality, Hickey said Quigg is focused on showing up each day and empowering her players to be the best they can be mentally, emotionally and physically. 
"Having a coach that instills confidence in you and knows what we are capable of really builds confidence in ourselves," Hickey said. "She's constantly communicating with us, telling us what we need to work on and how we can improve in each aspect of our game and having someone that has your back and believes in you is always helpful."
Quigg also pointed to the importance of leadership and mentorship, a role that Bostian and Hickey are happy to assume. As a senior, Bostian said she has seen the team through many seasons and wants her final season to be one she can look back on proudly.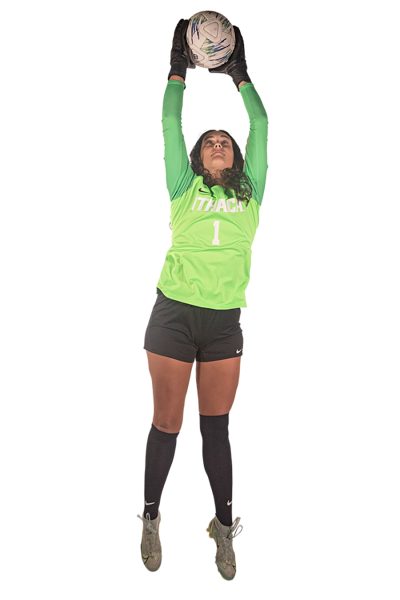 "I want to keep being a leader on the field and I would love to score personally, but mostly [I want] for the team, everybody, to do well, succeed as a whole and look back on the season with happiness," Bostian said. 
Hickey said she understands the importance of her leadership role as a goalkeeper, specifically in her junior year, noting the unique position a goalkeeper has on the field. 
"As an upperclassman and as a goalkeeper, you always have to be talking and communicating on the field," Hickey said. "I'm the only position on the field that can see everything from my defender all the way up to the other keeper, so just talking, keeping heads up, always giving positive feedback when something goes wrong, not putting your teammates down but picking them up is key." 
In addition to support from one another on the field, Hickey said the team is looking forward to the support of the Bomber community as it kicks off the 2023 season. 
"I think our games are always some of the most fun out there," Hickey said. "Our bench is one of the loudest benches there is — constantly talking and cheering — and even though the game itself is very competitive, there's really not a second of boredom going on on that field. It's a great time and, as a Bomber family, we have to support one another."
Quigg emphasized the importance of support from the campus community in highlighting a conversation around continuing to show up for equity in sports. 
"We hope the Bomber community will come out in droves and support our women," Quigg said. "The more people we get in the stands, the more that energy grows; coming off the World Cup and that excitement around women's soccer … I really believe it's a beautiful game, and we play it well." 
The Bombers will kick off the season at 4 p.m. Sept. 1 against Elmira College at home on Carp Wood Field.