Walking across the country is a great way to see some amazing and unforgettable scenery. But depending on the route you take, you may come across some horrifying sights.
My five-month journey on foot from New Mexico to Pennsylvania last year wasn't all New Mexico red rock and Colorado mountains and rolling Iowa hills. It also included walking alongside cattle feedlots, touring industrial parks and passing through oil refineries.
On September 9, 2014, the March left southeast Chicago and crossed from Illinois into Indiana at the very unceremonious "State Line Avenue" road sign. Almost instantly, it seemed, we emerged into the industrial belly that is Whiting, Ind. Barbed wire fences, large tankers with obscure contents, towering smokestacks billowing smog and a Super Wal-Mart to put the cherry on top.
Soon, we were walking through Whiting's BP oil refinery, BP's largest refinery and the sixth largest refinery in the United States. In 2012, BP agreed to pay $8 million for Clean Air Act violations at this refinery, according to Oil and Gas Online.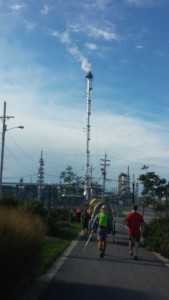 The last time we had walked through a refinery — Suncor outside of Denver, Colo. — a small platoon of security vehicles stalked us closely. Tall privacy fences rose up on either side of the road, making it nearly impossible to see what was going on just beyond the fence. When I found a hole in one of fence panels and stuck my GoPro camera through it, a menacing voice came over a megaphone:
"Step away from the fence. Step away from the fence."
The oil refinery in Whiting was more open than Suncor, and we got a close look at the operations. We also had more interactions with the workers — and, surprisingly, most were positive. Employees driving by waved to us, and many came up to the chain link fences to get a better look and even say hello.
The founder of the Climate March, Ed Fallon, approached a worker who was operating a large machine with a long tube sucking something up from a hole in the ground. They had a brief conversation and Ed reported back to us that the worker was vacuuming a waste spill leaking out of the plant. He explained to Ed that they used to only vacuum on occasion; now, sucking up the leakage is an everyday job.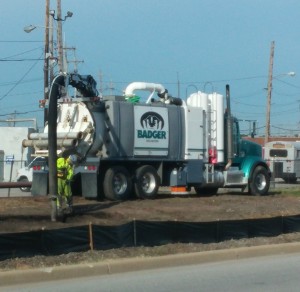 For a time, a small handful of the Marchers sat down in the road, blocking traffic from entering the facility. None of the workers blared their horns or even seemed to get angry. They just waited, watching in silence, until the police came and rerouted traffic, rendering the demonstration useless.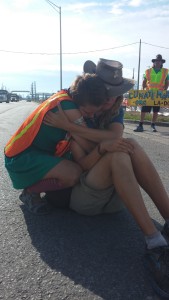 On Feb. 1, for the first time 35 years, about 3,800 oil workers from across the country walked off the job and began striking. The strikers are a part of the United Steelworkers Union, and they are seeking better health care benefits and are protesting excessive use of contractors and being overworked and understaffed.
Just yesterday, about 1,400 workers from two more oil refineries — BP's Whiting and Toledo, Ohio operations — joined the strike, now 11 refineries strong. The Climate March walked through both of these refineries. I imagine some of the very same workers we spoke to in Whiting are now risking their livelihood to demand better working conditions.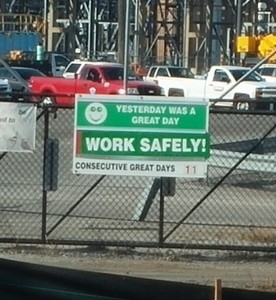 This massive strike dramatically highlights the intersection of the environmental and worker's rights movements. Often, operations that are dangerous for the environment are also dangerous for the people who work there. The Whiting refinery supplies ample amounts of polluted air and toxic substances that workers are subjected to every workday.
While in Nebraska, we passed a massive industrial slaughterhouse and spent time at an intersection watching cattle car after cattle car enter the facility in a constant stream. One of the Marchers had an opportunity to speak with a worker at this facility. As if the treatment of the cattle wasn't horrible enough, this worker had lost one of his fingers while on the job.
While the circumstances driving them to do it sadden me, I was ecstatic to hear about the strike. Risking your livelihood is a bold step to take, and I commend these workers for demanding better treatment. The oil and gas industry is now facing pressure on many sides — from activists to strict regulations to renewable energy growth to its own workers.
The only reason these poisonous industries exist is because there is demand for their products. It's time to retire oil and gas, and we each need to play our part in phasing fossil fuels out of our lives.
—-
Information sources for oil worker strike:
http://money.cnn.com/2015/02/08/news/companies/oil-refinery-strike/index.html
http://www.chicagotribune.com/suburbs/post-tribune/news/chi-bp-oil-refinery-strikes-20150208-story.html