Key points
Ithaca College purchased 917 Danby Road for $375,000 on July 5 and purchased 929-931 Danby Road on July 25 for $999,999. 

The college already owned 907, 915, 919 and 981 Danby Road.

The residential properties are periodically used by employees who need temporary housing.

The college is buying up real estate on the campus-side of Danby Road near the entryway so it can control the use of land and prevent development. 

All college-owned properties that are not essential to the core mission of the institution are taxed.
Key terms
Assessed value: Value of a property given by the local municipality for tax purposes.

Market value: How much something can be sold for in the market.

Appreciation: Increase in the market value of a property because of changing market conditions or property improvements.

Appraisal: A professional analysis of property value that takes into consideration examples of similar property sales.

Assemblage: Acquiring multiple plots of land adjacent to each other. For Ithaca College, one property may be worth more despite market value because the college wants to control the use of the entire row of properties on Danby Road. 

Escalator clause: A section in a real estate contract that states the interested buyer will raise their offer to a price limit if the seller receives a higher competing offer.

Residential Assessment Ratio: Level of assessment for residential properties in a municipality. An RAR of 100% means that the assessed value is the market value. If a municipality has a lower RAR, it means reassessments are conducted less frequently and are less accurate to current market conditions. 
Ithaca College bought two properties in July on Danby Road for over $1 million, adding to its collection that includes five other properties on Danby Road. These purchases are made to prevent unwanted development and to provide temporary employee housing. 
The college purchased 917 Danby Road for $375,000 on July 5 and purchased 929-931 Danby Road on July 25 for $999,999. The college already owned 907, 915, 919, 953 and 981 Danby Road. The only remaining property on the strip the college is hoping to purchase is 923 Danby Road, which is not currently for sale. 
More recently, the college sold Colliers Wood on Aug. 18 for $900,000, which is a residential property in London located about 40 minutes from the London Center.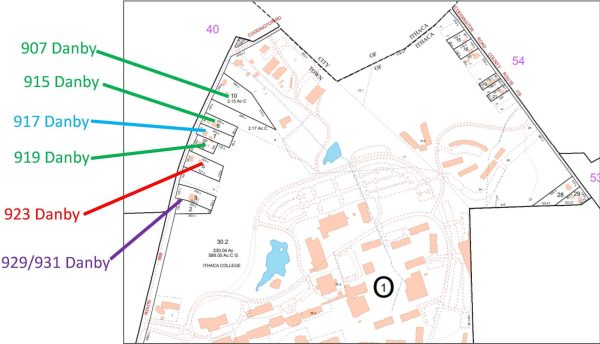 Tim Downs, vice president of finance administration and chief financial officer, oversees all real estate purchases and advises the Ithaca College Board of Trustees, which gives the final approval. 
Story continues below advertisement
Downs said there are no plans to develop the properties on Danby and the purpose of owning them is currently to prevent unwanted use of the property because of its proximity to campus. 
917 Danby Road — residential property, 0.72 acres
Downs said there was a private appraisal conducted on the 917 Danby Road property, which was reassessed at $339,000. The college bid $339,000 but put an escalator clause on its bid up to $375,000 in $5,000 increments. The $5,000 incremental escalator means that the college would only have to go high enough to beat other escalator bids. The other private bidder also offered $375,000, but the college narrowly won the sale because its offer had other attractive elements, like a quicker closure time.
"If we had bid $1,000 less, we would not have gotten that property," Downs said. "So that's just how crazy difficult the market is. And this property wasn't a splurge. We paid exactly what we needed to, to be able to procure that property."
The Tompkins County Department of Assessment ensures all properties in the county are assessed at an equivalent percentage of the market value so taxes are fair. According to the county's residential assessment ratio — which is 100% of market value — assessed value is the same as market value. However, looking at the assessed price and list price of properties in the area, properties usually sell for more than they are assessed at. This is because the Department of Assessment publishes property assessments a year behind, meaning the assessment roll filed July 1, 2023, reflects 100%, fair-market value as of July 1, 2022.
Jay Franklin, director of the Department of Assessment, also said it is not accurate to look at the assessment value to see how much a property is currently worth because of changing market conditions that increase property value — also called appreciation. 
"We are always playing catch up," Franklin said. "We're not trying to predict what something's gonna sell for today. We're reflecting what it would have sold for last July."
Franklin said the median appreciation had a 12% increase from 2021 to 2022 for properties in the county, not including properties that underwent improvements, meaning that value increase is based on general market changes only.
"So we're not seeing a greater supply of houses, but we still have that demand," Franklin said. "Everything is worth more nowadays."
In 2020, the worth of an average home in the United States was $230,000, compared to a value of more than $330,000 in 2023, according to the Guardian. 
929 and 931 Danby Road — double lot commercial property, 1.9 acres
The college bought 929-31 Danby Road in a private sale, meaning before the property was put on the open market, the college reached out and began conversations about purchasing it. 
Downs said it was more important to procure this property than 917 Danby Road because it is commercial property, making the likelihood of developers wanting to build on it much higher. Downs referenced 815 South Aurora St. as an example of what could have happened if a developer bought 929-931 Danby Road. At 815 South Aurora St., the developer built three buildings on less than an acre of land.
He said the goal was to prevent developers from flocking to 929-931 Danby Road.
"It was in our best interest to do [the sale] privately [by] working directly with the family and paying a rate that is reasonable, if not better than reasonable, given what a developer would do if they were able to get their hands on nearly two acres, right out our front doorstep," Downs said. 
Downs said all guidance about real estate, development, construction and refurbishment is based on the Master Plan. In the most recent 2015 Campus Master Plan, one of the suggestions on page 62 was to build a new entryway that would align with the traffic light at the South Hill Business Campus. However, Downs said that because there were improvements made to the existing entryway, that need decreased.
"Both from an entryway and a development standpoint, this land is a high priority for us," Downs said. "Getting the continuity of all these properties is absolutely critical so we can control what development does happen there and things that are maybe less desirable. … Can you imagine if the view from the fountains was blocked by a giant apartment building?"
Downs said a new Master Plan will need to be created in the near future to reassess what the best use of land and resources are. 
Employee rental program
Like Terrace 1 currently, the college uses residential properties for temporary employee housing. Downs said the cap is six months but can be extended if need be. Any employee can request to use one of the properties for transitional housing. For rent, the college is required by the IRS to charge a market-based rent price.
One of the more recent residents to temporarily stay in one of the houses on Danby was Anne Hogan, dean of the School of Music, Theatre, and Dance. Hogan interviewed for the dean position in May 2022, was hired in June and moved to Ithaca in August. 
She said that because of the quick turnaround to get to Ithaca and the difficult housing market, the temporary housing on Danby gave her buffer time to figure out where to live. Hogan said she stayed in the house on Danby Road for about two months.
"I feel really fortunate that it worked out that there was temporary housing available," Hogan said. "It allowed me to really step fully into the role and then have just a little bit of time to sort out more permanent housing."
While the option can be beneficial for new employees, Downs said the houses are empty more often than they are in use. He also said the college does not rent out the properties to the public because of potential legal challenges with lease agreements, insurance and nonprofit restrictions. 
Downs also said the college has not opted to create student apartments in the houses because the college already has capacity in campus housing. 
Nonprofit status and property tax
Another aspect of owning off-campus property is that the college pays taxes for them. As a nonprofit, the college is only tax-exempt when it comes to property that it uses for its core mission. The Danby Road properties are all on tax rolls because offering employee housing is not essential to the college's operation.
"If colleges — whether it's Ithaca College or Cornell — buy up all the [property and] take it off the tax rolls, that pushes more of a tax burden onto the rest of the community that have to then cover all the services and fees that the town would have," Downs said.
In addition to the main campus property, the college does not pay taxes for 808 and 809 Cascadilla St. — the boathouses for rowing — and 144 Piper Road in Newfield — a 125-acre woodland property used for education and research. The president's house at 109 Loomis Court is tax-exempt as well. 
Franklin estimated that ​​if Cornell University and Ithaca College were to pay full taxes on all of their properties, the tax for an average house in the City of Ithaca would drop between 40–45%. He said the value of property also is higher because of both institutions and the demand for housing.
"[The cost] is definitely a negative because we have such a housing crunch right now … but in general, Ithaca and Tompkins County wouldn't be what we are without those institutions," Franklin said.