Playing on a sports team usually allows members to form a common bond, and for the members of the Ithaca College 2015–16 gymnastics team that bond has become ever greater because a majority of the gymnasts come from several parts of the country. Being so far from home, the members have created a tight-knit family of their own at the college. The athletes are from South Carolina, Connecticut, Pennsylvania, New Jersey, Wisconsin, New Hampshire, Arkansas, Massachusetts, Maine and Missouri. Currently, only three gymnasts on the roster are from New York.
Several of the athletes point to the college's revamped training facility as a key factor in choosing Ithaca. Head coach Rick Suddaby said the gym renovation in 2013 attracted gymnasts from a wider range of locations, whereas in prior years, the team had been made up of mostly Northeasterners. He said the number of different hometowns represented on the team provides a greater pool of athletic ability.
"It's actually a new phenomenon. Gymnasts coming from different states gives the opportunity to bring in more talent," Suddaby said. "Now, kids are more excited about the program and want to be a part of it."
Sophomore Kelly Nash from St. Louis, Missouri, found much success in her first season on uneven bars, which included a score of 9.575 at the Big Red Invitational last year and a 9.325 at Regionals. Nash said she did not have any knowledge of the college prior to the year she decided to commit. She said she applied to approximately 12 schools, including other Division III schools SUNY Cortland, the University of Vermont and the University of Wisconsin-La Crosse, but said the facilities at Ithaca College were the best of them all.
"No one from my town knew what Ithaca was, but I wanted to get away from the midwest," Nash said. "It's actually not a big change, but it is funny because everyone thinks I live on a farm and have never seen a city, but [Ithaca and St. Louis] are actually pretty similar."
Junior Lynley Choate, from Bald Knob, Arkansas, transferred to the college from Arkansas State University when she realized she wanted a change. She too said the facilities, specifically the new pit, which protects gymnasts from dangerous falls, sparked her interest in the college.
"I chose IC because of gymnastics. I looked at DIII schools, and there were no DIII schools that had gymnastics close to Arkansas, so I decided to move north. It also had my major of exercise science," Choate said.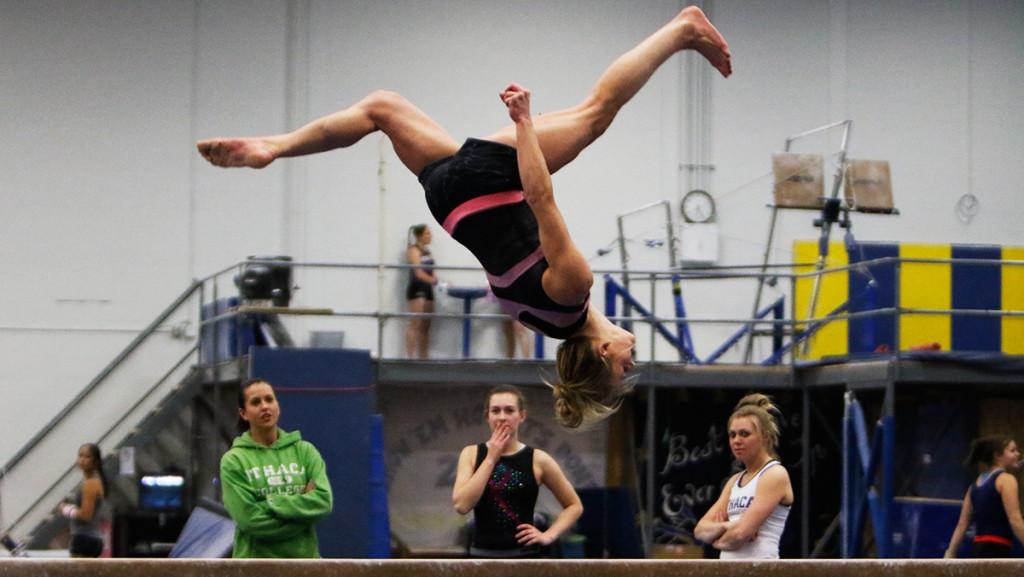 Unlike Nash, Choate's transition from Arkansas to South Hill was not so smooth, and she said she has found the two places to be quite different from each other.
Choate said the change in weather was probably the biggest part of her transition to the Northeast because she said Ithaca gets about 30 degrees colder than Arkansas in the winter and she had not seen over a foot of snow until coming to the college.
Freshman Haley Lyons, who is from Pembroke, Massachusetts, was accepted and considered for walk-on positions at four Division I institutions — the University of New Hampshire, Temple University, Towson University and West Virginia University — before deciding to commit to the only Division III school she had considered.   
Lyons said a large part of her decision had to do with the functions of the gym.
"The facility is better here than in most DI schools," Lyons said. "It blew me away. It's amazing. It definitely brings in a lot of new people and a better crowd."
Aside from the newly renovated facility, the college has another appeal that tends to draw most gymnasts here, Lyons said. She said she found a happy medium at the Division III level, where she could continue doing what she loved, without gymnastics taking over her life as an undergraduate.
"Visiting [the college] made me realize that gymnastics is a big part of my life, but it's not my entire life," Lyons said. "I didn't want my entire college experience to be taken up from gymnastics."
Suddaby said recruiting for Division III athletics is completely different from recruiting for Divisions I and II athletics.
"It's all about trying to meet someone's needs at a DIII school," Suddaby said. "At the DI level, it's about hiring kids to do sports, so they get paid to do that. We don't do that at our level, and their aid is the same as any other student's. Kids come because they love the sport and program."
Lyons said the gymnasts' love for the sport is apparent through how happy they are with their decisions.
"I clearly made the right choice because I love it here," Lyons said.