For most families, game nights consists of camaraderie and competition. However, for the Suddaby family, game nights have a different connotation.
Ithaca College sophomore diver Lindsey Suddaby grew up in Burdett, New York, learning how to do flips on the trampoline in her backyard alongside her sister Mikaela, a junior at the college. The trampoline was not only a leisure activity for her, but also a product of her parents' rich past in gymnastics.
Both of her parents, Kim and Rick Suddaby, grew up as gymnasts and were a part of the gymnastics team at SUNY Cortland in the early years of the program. Rick's success as a gymnast at Cortland lead him to a path coaching gymnastics. He began coaching at IC in 1985, where he has remained for the past 30 years. As children, Lindsey said she and Mikaela would come to the college after school with their father and play on the mats and watch gymnastics practice, which lead them to get involved with the sport.
"It was something fun to do and something that the family enjoyed together," Lindsey said. "But I never felt obligated to participate in the sport because of my parents."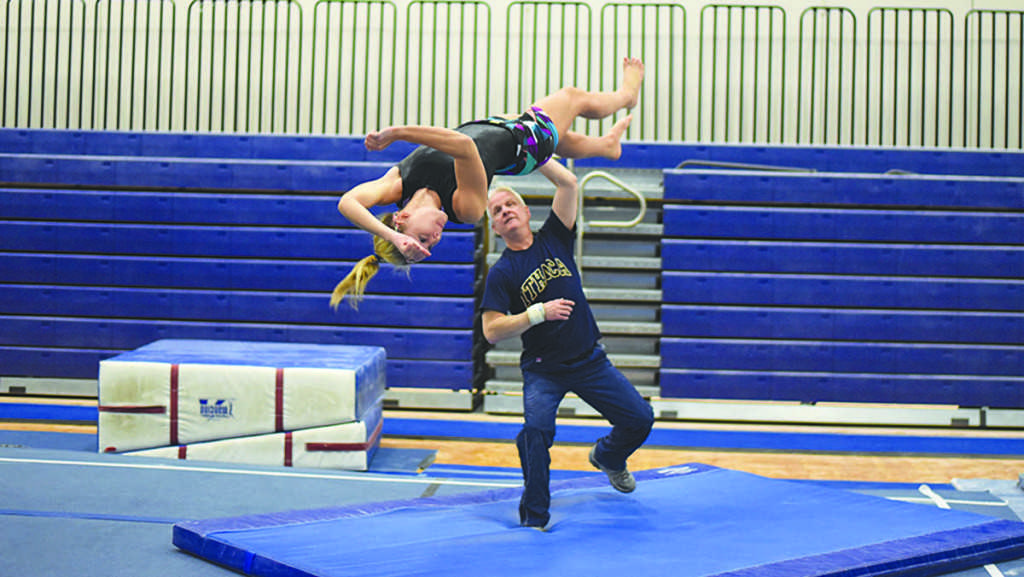 Rick coached Mikaela in gymnastics and said it is sometimes difficult for him to find common ground between being a coach and a parent.
"Once in a while, we talk about diving techniques, but I think I usually offer advice before she asks for it," Rick said. "I told her, 'Just tell me when you want me to be dad.'"
Contrary to this, Lindsey said she is appreciative of her father's knowledge.
"That's just who he is," she said. "When he goes into 'coach mode,' I understand."
Rick's sideline coaching reached a new level last year when the swimming and diving team lost its coach mid-season, and Rick stepped into the role for the interim period while also coaching gymnastics.
In elementary school, Lindsey said, she was not ready to make a big commitment to gymnastics, and the hostile environment of the club she joined and the harsh attitude of the coach led her away from the sport. In middle school, however, Lindsey said she found the sport in which she was most passionate about: diving.
"I decided to do diving because I knew I could do flips on a trampoline," she said. "So why not do flips on a board?"
Lindsey fell in love with the sport at Watkins Glen High School, with her mother helping her out at home. Kim had no past experience in diving but utilized her knowledge of gymnastics to find connections between the two sports. She said she also frequently went to diving camp with Lindsey and learned alongside her. The main similarity between the two sports is while the athletes are in the air performing flips and twists, Lindsey said.
"Gymnastics and diving are a lot alike," she said. "The part that is different is the board aspect, but the flipping and twisting are pretty similar. [My mother] is very good at understanding how a diver does it and how a gymnast does it and how the two relate."
With the help of her mother, Lindsey became a successful diver, which allowed her to be recruited as a member of the college's diving team. Mikaela also chose to attend the college, but not for the athletics. Instead, Mikaela said she committed to the college for the sense of home that she felt due to the amount of time she spent here with her family as a child.
"Some of my best memories are from going to the gym with my mom, dad and sisters," Mikaela said.
Rick said he enjoys having his daughters on campus as well. He eats lunch with Mikaela every other day and gives Lindsey advice from the sidelines. However, during the spring while both swimming and diving and gymnastics are in season, Rick said it gets difficult for him to balance being a father and being a coach.
"If we happen to compete on a Sunday, then I get to see her on a Saturday, unless we are on the road, but it gets difficult," Rick said. "I try to get to as many as I can, but if I can't get there, then I can't get there, and she understands that."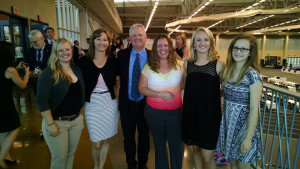 Lindsey said her parents, like most parents, put forth their best effort to attend as many of her swim meets as possible. Rick said the meets he is able to attend, however, become some sort of a "family get-together," and Kim always attends the meets alongside her husband.
Mikaela said she works as event staff at the Athletics and Events Center, so she often attends the swimming and diving meets and gets to watch Lindsey compete.
"It is fun to watch Lindsey's score get higher and higher," Mikaela said. "Lately, I have been announcing for the meets and have been tempted to do a little cheer for her into the microphone, but I figured it would be inappropriate."
Mikaela said her ambition to cheer her sister on is ingrained in their close relationship.
"Lindsey is my best friend," she said. "I am so proud of her for how great she is doing in diving and for how amazing she is as a person. Even though she is younger than me, I look up to her a great deal."
Although the time period was only a few days, Rick said he was glad he could help the team. Both Lindsey and her father said they enjoyed the extra time together.
When Chris Griffin, the assistant aquatics coordinator and diving coach, was hired in July, he said he was instantly embraced by the Suddaby family. The family often arrives as early as two hours prior to the meet to help and watch the team warm up, he said.
"They are supportive. They watch. They cheer," Griffin said. "They let both Lindsey and myself do what we need to do to get the results we want at the end of the season."
Lindsey's family isn't her only supporter at her meets. The entire gymnastics team will often be in attendance, having already attended the Bombers' first home meet of the year. Lindsey does the same, going to the gymnastics meets not only to support her father, but also her friends on the team.
Lindsey said the experience of attending her father's gymnastic meets has evolved over the years.
"I grew up going to his meets," she said. "But it's definitely a different perspective now being on a team and having the gymnasts be the same age as me."
Last season, Lindsey came out of the season as one of the team's top divers and qualified for Zones, which is the meet for solely divers after States. This meet allows divers to try to get a qualifying score to move on to Nationals. She said she was able to make it to this meet by "nailing" the last dive in order to accelerate to the next level.
Lindsey said her main goals for this season are to perfect new dives, such as the 5333, which is a reverse 1 1/2; the 305, which is a reverse 2 1/2; and qualifying for Zones again, she said. And with the never-ending support and help from her family and team, she can do that, she said.
"I want to have a strong team dynamic and work harder and keep pushing myself to do things that I didn't think that I would be able to do," she said.