From the dreary small towns of Washington to the highly charged deserts of Iraq, "Plumfield, Iraq," Ithaca College's first theater production of the season, flits between the duality of right and wrong, and effectively portrays one character's state of mind, but fails to create a connection to its other themes.
"Plumfield, Iraq" follows Mike (senior John Gardner), a recent high school grad. The play opens with Mike and his six friends, including his best friend Cam (senior William Boyajian), planning for their futures. For them, that means joining the Army to pay for school and to escape Plumfield, Wash.
Director Cynthia Henderson, associate professor of theater arts, sets up the experience through Mike's perspective. As the audience filters in, he sits still center stage, brown boxes surrounding his feet and a cracked title roof overhead, lost in his own world that the audience is about to enter. The play serves as a lens into the mind of a young man trying to come to terms with the atrocities he faced during his service in Iraq.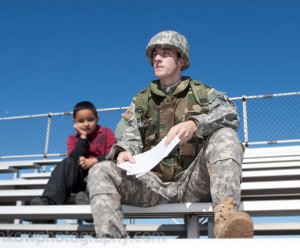 Mike's post-traumatic stress disorder is a disruptive force for the sense of time in the show. Rather than a chronological order to the scenes, there are flashbacks, what-if scenarios, nightmares and memories, all of which result in a two-hour character study. Because everything is shown through Mike's perspective, the other characters — Cam excluded — are portrayed as shadows in Mike's memories.
Gardner's ability to transition between anger and confusion to happy-go-lucky is extraordinary. His character shifts so quickly from moment to moment, it's difficult to believe it's the same person playing both
extremes. He is convincing in his skilled portrayal of a haunted man.
However, the other characters are underdeveloped. Boyajian comes off less static than the other supporting actors, but his performance still lacks depth. A moment between Cam and his girlfriend Loraine (senior Elizabeth Ellson) sounds like the actors are still reading from their scripts with scheduled times to interrupt each other, rather than letting the natural conversation flow.
The transformation of the student actors into Iraq soldiers instills a sobering thought with younger audience members faced with the harsh reality of the current war. However, besides authentic ROTC gear, the costumes, designed by Greg Robbins, associate professor of theater arts, have no real sense of time period or personality.
Music plays a strong supporting role in the script, adding a duel sense of subtle yet impactful symbolism to scenes. "What a Wonderful World" plays at the beginning of the play and Mike, Cam and their friends all sing as part of the barber shop quartet The Plumbers, a group they formed in high school. The music adds an ominous sense of sobriety to some scenes and plucks up the mood in others.
Contrasting lights and sounds help transition the play between different moments in Mike's mind, while repeated dialogue from characters in different settings ties them all together. The line "where's Cam?" is used through different flashbacks and scenes to indicate Mike's never-ending concerns about his best friend.
While Mike might never be able to come fully to terms with his memories of war, somewhere between Washington and Iraq there was a missed opportunity to present a final connecting moment to the audience. Though Gardner's powerful performance is enough to carry the show, even coupled with Henderson's mastery for shaping situations that propel the plot as they define character, the experience still feels out of harmony.
"Plumfield, Iraq" will run through Saturday in the Clark Theatre.