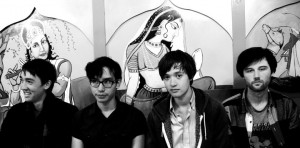 What we have here is a classic case of branding failure in the global market. What happens when your brand—or band—name means something in one cultural context and a completely different thing in another one. This is what happened to American indie rock band The Morning Benders.
Last night, the band posted to their Facebook saying: "This will be the last post from The Morning Benders. Thank you all very much." This of course resulted in concerned cries for an explanation from the band's devoted fanbase. For some time, it seemed as though that was it for The Morning Benders.
One hour later, we were introduced to POP ETC, the new moniker of The Morning Benders. The band shared a blog post in which they explained just what they were trying to achieve with a seemingly spontaneous name change.
It appears that the term "bender" has a strong negative connotation regarding homosexual individuals in the UK and some parts of Europe. When the band was touring, Europeans would ask them why their band name was so distasteful. Being American, the group had no idea that the term created such a stir in the community. Hence the renaming and the birth of POP ETC.
Watch the video for "Excuses" below. Welcome to the world, POP ETC.