In the wake of major storms like Sandy, the importance of combating climate change is returning to the spotlight. Many cities, including Ithaca, are taking steps to prevent further environmental damage.
Some scientists are attributing greenhouse gases like carbon dioxide as the cause for the increase in the number of severe storms. To help reduce carbon emissions that contribute to climate change, the City of Ithaca has signed a resolution for the Clean Air Act, becoming the 41st city in the U.S. to do so.
Congress passed the Clean Air Act in 1963 to promote the reduction of carbon dioxide and improve the air quality in urban areas. In 2009, cities began to propose resolutions urging the U.S. Environmental Protection Agency to begin implementing and enforcing strategies for carbon dioxide reduction, as outlined in the Clean Air Act.The City of Ithaca signed the Clean Air Act resolution Nov. 7, when it was first brought to their attention by James Underberg, former president of the Roosevelt Institute at Cornell University. The resolution is for the EPA to enforce the Clean Air Act to reduce carbon emissions nationally and to cap the atmospheric carbon dioxide levels at 350 parts per million. The current atmospheric carbon dioxide level is at 391.01 parts per million, according to Pieter Tans, senior scientist at National Oceanic and Atmospheric Administration Climate Monitoring and Diagnostics Laboratory.
"This resolution itself is a resolution of support, so it does not have a direct effect on city policy," Underberg said. "We do share Mayor [Svante] Myrick's hope that it will motivate the Common Council to take bold action to reduce the city's own environmental footprint."
Joseph Murtagh, a representative of the Second Ward of the City of Ithaca's Common Council, said it was important for Ithaca to sign the resolution.
"We have a big focus on environmentalism and sustainability locally," Murtagh said. "Passing that resolution is really in line with our other environmental efforts. We want to make sure that we're sending the message that Ithaca is a place that cares about the environment and wants the federal government to take the appropriate steps and regulations to make sure we all have the cleanest air possible."
According to the EPA's U.S. Greenhouse Gas Inventory Report from April 2012, greenhouse gas emissions have increased by 10.5 percent since 1990. Carbon dioxide emissions made up nearly 84 percent of all greenhouse gas emissions from human activities.
Charles Greene, professor of earth and atmospheric sciences at Cornell University, collaborated with fellow professor of earth and atmospheric sciences at Cornell, Bruce Monger, to publish a study on Arctic climate change in June 2012. The study found carbon dioxide and other greenhouse gas emissions to be the cause behind the melting of ice caps that result in changes of ocean temperatures.
"We should be doing everything we can to reduce emissions," Greene said. "We also must go beyond that — we must actually remove the carbon dioxide from the atmosphere."
In 2007, Ithaca College made steps to reduce carbon dioxide emissions and create an environmentally conscious campus by signing the American College and University Presidents Climate Commitment, which inspired the Climate Action Plan that was officially approved in 2009 and implemented in the 2010-11 fiscal year.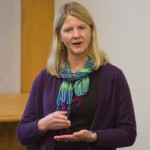 Marian Brown, the campus and community sustainability special assistant in the office of civic engagement, said the college has recognized its responsibility to reduce the impact of climate change.
"We committed to developing a climate action plan to become carbon neutral at some point so we're no longer contributing carbon emissions," Brown said.
The goal of the Climate Action Plan is for the campus to be 100 percent free of carbon emissions by 2050.
According to the Climate Action Plan progress report for the 2010-11 academic year, some progress has been made in reducing 107 metric tons of carbon dioxide-equivalent gases utilizing practices such as composting.
However, Paula Turkon, professor of environmental studies and sciences, said the college should do more to follow the Climate Action Plan in other areas, such as transportation.
"One of the places where we haven't made much headway is transportation," Turkon said. "We need to figure out a less energy-wasting way to transport everybody. I think pretty much everybody could take the bus more often, but we don't."
The plan calls for the campus to use more sustainable and efficient forms of energy and transportation to cut down on carbon emissions.
Turkon also said the college should be paving the way for students to make environmental change.
"Places of higher education and corporations in the public eye need to make [environmental] changes, because people on an individual level have to use those places as guides to make change themselves," Turkon said.
According to the U.S. Global Change Research Program's 2008 report on national climate change, the number of storms and their intensity has increased in the last two decades. The Center for Climate and Energy Solutions notes that there is a connection between warmer sea temperatures and storm frequency.  From 1850-1990, on average there were 10 tropical storms per year in the North Atlantic. From 1998 to 2007, the average increased to 15 per year.Following recent years of disastrous storms across the U.S., such as Hurricanes Ike and Katrina, more scientists are accepting global climate change as the culprit for the increase in severe weather.Greene said melting ice caps in the Arctic are also possible contributors to the recent severe weather. Greene said the Nor'easter, which is a powerful storm that combines Arctic and northeasterly winds, that followed Hurricane Sandy is related to climate change in the Arctic.
"[Nor'easters] have always been a very natural thing, but now we've monkeyed around with climate up in the Arctic so that we're stacking the deck in favor of more of these invasions of cold air masses," Greene said. "We're going to see more Nor'easters."
Junior Allison Currier, president of the Ithaca College Environmental Society, said climate change is a pressing issue that the current generation must face.
"We need to be educated and understand the urgency of climate change," Currier said. "Something like Hurricane Sandy that hit my and many other homes a few weeks ago is a clear example of the dangers of climate change."
On a local level, individual students can make personal choices to reduce their carbon footprint, Brown said.
"Each individual should think about their own impact, how they could be less wasteful of resources and be more energy conserving. Each one of those individual steps done by 8,000 people can have a profound impact," Brown said.
Meanwhile students at the college like Currier are concerned that there isn't enough campus-wide environmental dialogue.
"Unfortunately I don't think that in our curriculum there is enough discussion about environmental issues across campus as a whole," Currier said. "Having clubs and organizations such as ICES, where students can come talk about environmental issues and how we solve them, is extremely important. It's our future, and we're the generation that's going to be making change."