Four years ago, Dave Maley, associate director of media relations at Ithaca College, was afraid of heights — until he found himself diving out a second-story window.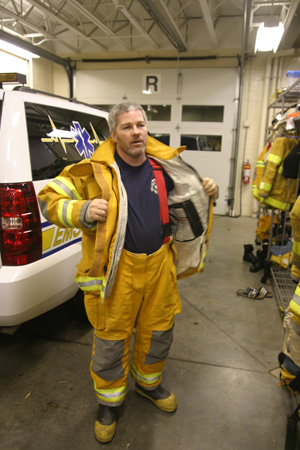 As a volunteer firefighter for Cayuga Heights Fire Department, Maley had to overcome his fear of heights quickly.
"I'd say it's adrenaline that gets me up there, but whether it's up on a ladder or not, I have to do it because it's my job," Maley said.
Maley extinguishes fires at both of his jobs. The only difference is he gets paid at one, and the fires at the other could actually end up injuring him.
"My job as the [public relations] person at the college is to put out fires, and then I get to go to the firehouse and do the same thing in a much different way," he said.
Maley is on call as a firefighter for the Cayuga Heights Fire Department at all times. His volunteer career started unintentionally three years ago when a fire broke out close to his home, and he went to help. A firefighter on the scene asked if he had ever considered joining, and he signed up the next fall.
"If you had asked me four years ago about being a firefighter, I would have laughed," he said.
Maley, 48, is one of nine college employees who volunteer as firefighters. The college has a public service leave policy, which states that the college will provide paid time off for full-time employees who work in short-term public service activities. This makes Maley's kind of balancing act possible, because working as a volunteer firefighter or an emergency medical technician falls under that category.
Deb Mohlenhoff, coordinator of community service and leadership development at the college, said the purpose of the policy is to encourage faculty and staff to volunteer in the community.
"If someone had to leave to respond to an emergency call, I'm sure that the college and administrators would be willing and not blink an eye if it happened," she said. "It's the flexibility that the college offers faculty and staff to do what they are passionate about."
In May, as Maley was getting ready to leave for work at the college, his beeper went off. Rather than driving to South Hill, the third- year volunteer firefighter raced to the Cayuga Heights Fire Department. The rest of his morning was filled with flames and smoke as he battled a structure fire.
"I climbed the ladder on the truck and went in upstairs and had to poke holes in the ceiling to find out where the flames were coming from," Maley said. "We found the fire and got a hose in the roof area and managed to put the fire out before too long."
He got to work late that day.
Doug Gordner, a fire protection specialist on campus since 1993, has spent more than 25 years working in the Candor Fire Department as a volunteer firefighter. On campus, he tests and inspects all fire alarm systems, sprinkler systems and fire extinguishers, and works to prevent fires.
He is too far from Candor to respond to a call during working hours at the college (Candor is about 20 miles from Ithaca). But when he leaves South Hill, he goes on call to battle fires, respond to car crashes and clean up downed power lines.
Gordner said the two jobs are related, but have many differences, as well. He said while his job at the college is proactive, his position as a volunteer is reactive.
"It's an interesting dynamic because this is like a fire prevention bureau [on campus]. But down in Candor, we are the fire suppression bureau," Gordner said.
During his 25 years of volunteering, Gordner has learned the importance of fire safety.
"When I was young, I used to be like, 'I want a bad fire,'" he said. "But now I've seen enough stuff that I don't wish that upon anyone. I responded to a really bad car accident with a young kid, and I never wished for it again."
Gordner's firefighting persona also extends to the classroom. He and Mark Warfle, assistant director of event planning and operations at the college, are state firefighter instructors for Tioga County. They teach new volunteers how to become certified firefighters. There are only four instructors in the state, he said.
"When you walk out of that class, you can be an interior firefighter," Gordner said.
In addition to their double workdays, Maley and Gordner balance family life. Both are married with children, so Gordner said adjustments must be made.
"You just have to set your priorities," Gordner said. "I used to live and breathe [firefighting], but I miss out on some calls now because I'm at IC during the day or I'm being Mr. Mom. When I first joined, the fire department was my family and I was always there, but I didn't have kids then. I wasn't married then."
His wife, Jolene, said her husband will always love firefighting — which is a good thing, since the community needs the help.
"I want him to go and help somebody however he can, because you never know if you're going to be the next person," she said. "I always have to support him 100 percent."
The fire department has become like a family to Maley — literally.
Two of his sons, Mike, who is a sophomore at the college, and 17-year-old Kevin, joined the Cayuga Heights Department after their dad enlisted.
"Everyone in the department enjoys the camaraderie," Mike Maley said. "Our bond is obviously a lot closer and stronger now."
Gordner said fighting fires has united professors and employees at Ithaca who otherwise might not have made connections.
"There's always that brotherhood when you bump into each other and ask if you've had any burns lately," he said.
Though Maley has fought just two house fires and most calls are false alarms, he said training keeps him busy for five or six hours a week. But, he said, the responsibility he has makes the time he spends worthwhile.
"Firefighting has an ultimate purpose, so I have to give it a try and get over my fears."