Ithaca College instituted new guidelines for recruiting candidates from underrepresented backgrounds for new faculty positions Sept. 21, and new guidelines for staff will be implemented by mid-October. President Tom Rochon announced the development of these guidelines in an announcement Sept. 6 in response to protests over alleged racial aggression by Public Safety officers.
Benjamin Rifkin, provost and vice president for educational affairs, said in a statement the new guidelines include training on inclusive search procedures for search committee chairs, diversifying search committees, including a faculty member from outside the unit that is conducting the search and approving lists of semi-finalists and finalists in searches to ensure qualified candidates from underrepresented backgrounds are included in the finalist pool.  
Although many of these procedures have already been in practice in some departments or schools, Rifkin said the college is making all searches more consistent collegewide.
"The procedures … are reflective of best practices across the country in enhancing success in recruiting faculty from underrepresented backgrounds," Rifkin said. "We will monitor the impact of the procedures in the candidates recruited and successfully hired."
There are various reasons why higher education institutions struggle to recruit ALANA faculty members. A study published in the Journal of Diversity in Higher Education in 2011 stated that scholars point to a low number of ALANA students receiving doctorates as a factor in the difficulty of recruiting a diverse faculty. The study states isolation for faculty of color, devaluation of minority research, a "token hire" misconception against faculty of color, racial bias in recruiting, tenure and promotion contribute to low retention rates of ALANA faculty, many of whom pursue other careers.  
From 2005–14, the percentage of African, Latino, Asian and Native American faculty and staff at the college has risen from 7.72 to 10.64 percent, while the percentage of white faculty and staff has correspondingly decreased from 90.22 to 86.56 percent, according to data from the Office of Institutional Research. The percentage of ALANA students over the same period has risen from 9.19 to 18.82 percent.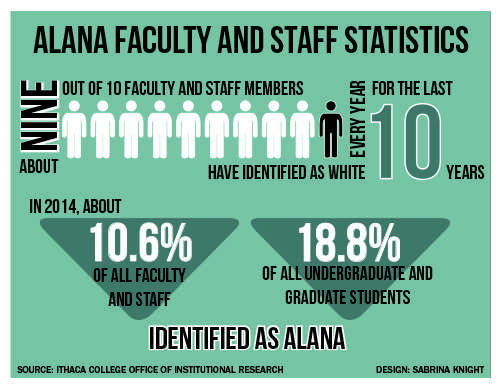 Gustavo Licon, assistant professor in the Center for the Study of Culture, Race, and Ethnicity, said he thinks providing a diverse faculty and staff would be a benefit for everyone, not just for students of color.
"We're not providing the best service to the students," he said. "We're not exposing them to the wide variety of ideas and peoples that they will be exposed to in the workforce."
Licon said he thinks more departments outside the CSCRE should be teaching about diversity in the classroom, but they are not because of the lack of diversity among faculty in most departments.
"They [the college] make a big emphasis of the diversity…, and I think that students expect that, and when they don't find it, there could be some level of disappointment," he said. "In an ideal world … departments would be diverse, so these subjects would come up in history and sociology and communications and all of these different departments, but the reality is that for the most part it doesn't."
Sophomore Tyler Reighn said he was upset by the number of ALANA faculty he has had.
"I feel that up to this point, the number of ALANA faculty that I have had is really disturbingly low," he said.
Reighn said he had concerns with the number of ALANA faculty teaching subjects outside the CSCRE.
"My concern with that is it feels rather limiting, as if that's the only place where ALANA people's voices are valued," Reighn said.
Reighn said he thinks the college should employ more ALANA faculty, but they need to focus on the why, not just filling a quota.  
"Whenever you hire someone just to be that role, that becomes the only redeeming or qualifying part of their identity. You never want to do that to them because that's what makes them a token, and that's not conducive to a functioning diverse environment," he said.
Senior Imani Hall said as an ALANA student he has seen a number of ALANA faculty and staff members he knew leave the college, such as Lee Bostic, who worked in the Office of Admission before leaving in 2013, and faculty like Mo Baptiste, assistant professor in the Department of Education, and had not been replaced with new ALANA faculty and staff.  
"I think it's important to be as holistic as possible when it comes to materials and different kinds of viewpoints and understanding when it comes to education," he said. "I think it's very important to look at things from multiple angles."
Scott Hamula, associate professor and chair of the Department of Strategic Communication, said he still finds it difficult to be chair of a search committee because it has been getting harder to increase the pool of faculty applicants of color. He added that the selection of institutions with increased resources to support a growing diversity pool is so large.
Hamula is working to increase diversity at the college as a co-chair for the Park Diversity Advocates Committee for the Roy H. Park School of Communications, a group that receives information about minority students, faculty and staff in the School of Communications and disseminate information to them as well.
Anita Nahal, a certified diversity professional who consults about organizational diversity and higher education and the fellowship program administrator at the Smithsonian National Museum of African American History and Culture, said hiring goals should be to reflect the demographics of the students in the demographics of the faculty and staff, not to hit an "ideal" ratio. Diversity, she said, does not consist of just race, ethnicity and skin color. It can include many other categories like disability, religion, gender, sexual orientation, language, dress code, physical features, age and country of origin.
"Just because someone looks African-American or white or Indian doesn't mean they don't have other layers of diversity behind them and who they are," Nahal said.
In order to attract a larger number of ALANA or diverse faculty, Nahal said, the institution needs to present itself as open to accommodating diversity through recruitment policies, diverse advertisements, interview policies and hiring practices.
"If you want to recruit more and more diverse individuals, you want them to see right from the beginning — before even they're appointed — that this is an institution that welcomes and values diversity because of what those diverse individuals bring to the table," she said.
Licon said although hiring more faculty of color is important, making the ALANA and other diverse faculty who are already hired feel included in the predominately white community is also important.
Michelle Rios-Dominguez, manager of diversity and inclusion in the Office of Human Resources,  said there is a series of workshops and seminars that faculty chairs must attend as a form of training in how to make the candidate search for open positions more inclusive, including what kinds of questions to ask that are more productive to understanding a candidate's views on diversity and how to write a release about an open position using more inclusive language.
Additionally, there is a mentoring system in place for new faculty of color in helping them integrate into the Ithaca College community, as opposed to assimilating them. This, Rios-Dominguez said, helps improve the retention of newly hired faculty and staff.
Ashley Hall, dissertation diversity fellow in the Department of Communication Studies, is new to the college this year and said so far the community has felt very inclusive. She said she notices gaps in courses, but there are other groups and organizations that supplement what isn't being offered in the classroom. One example of that, she said, is the ALANA barbeque the Office of Student Engagement and Multicultural Affairs invited her to at the beginning of the semester. This was the first event from all the institutions she has studied at where ALANA students, faculty, staff and administrators were invited to socialize with one another.
"At the end of the day, that's one of the things that is most important … creating networks and building relationships and being able to cultivate the space to be able to have these hard conversations," Hall said.
Nahal said the college can retain diverse faculty and staff by valuing them, treating them like faculty and staff in the majority, offering the same professional development opportunities, allowing them to attend conferences and workshops and allowing them to take sabbaticals for research.
"When students come from a more diverse institutions, they are going to be better equipped and prepared to work in and live in a more diverse professional world," Nahal said.

Assistant News Editor Max Denning contributed reporting to this article.