One of the newest additions to The Commons' business scene offers a combination of services that, its owners say, is not available elsewhere in the Ithaca area. Lot 10 Kitchen & Lounge, which occupies the space at 106 South Cayuga St. formerly leased by Delilah's on Cayuga, opened its kitchen last week to add to its two-month-old bar and lounge.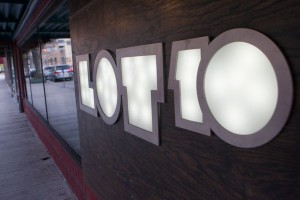 Matthew Riis '02, co-owner of Lot 10 with business partner Justin McGuire, decided to open the business with a bar and cocktail lounge, which have been open since Feb. 4, and the kitchen, which opened April 3. The two were attracted by the space's history as not only a restaurant but also as an entertainment spot, Riis said.
"We have a bar, a venue, a restaurant and a cocktail lounge all under the same roof," Riis said. "It's an eclectic place that has a little bit of something for everyone."
The kitchen, Riis said, has been a work in progress since January. Riis also said the kitchen offers tapas-style dining featuring new American cuisine. The menu consists of dishes that include but are not limited to Asian curry dishes, Buffalo chicken and Vietnamese sliders.
"It really comes to draw on all the different ethnic influences that are inherent in the American culture and are certainly alive and well in Ithaca," he said.
With the combination of entertainment and the food, Riis said, he and McGuire can each concentrate on their past experiences. Riis has done freelance marketing and events planning in Ithaca for three years and recently worked as marketing and events manager for the Downtown Ithaca Alliance, and McGuire worked at the former Lost Dog Café, which also previously occupied Lot 10's current space, and has owned Bella Pizzeria for the last two years.
"It seemed like this was the perfect opportunity for us to both have areas of expertise under one roof," he said.
Katie Foley, Lot 10's front-of-the-house manager, said the business employs more than 20 total staff members. Though about 140 family members, friends and restaurateurs attended a soft opening April 1, she said business for the kitchen has not been too busy yet, but it's still early.
Foley said she believes Lot 10 will contribute to business in the lounge's immediate vicinity. Other than The State Theatre, which has the capability to host large venues, Lot 10 is one of the few places to see a bigger show downtown. Castaways, another popular spot for musical talent, announced last month it would shut down its operations in May. Attendees could perhaps then translate into support for other area businesses.
"Unfortunately, I'm looking out the windows right now, and I see 'For Rent,' 'For Rent,' 'For Rent,'" Foley said. "I'm hoping that we bring a lot of life down to this end of The Commons and get people excited again about having a live venue."
Junior Perri Rumstein, a recent Lot 10 customer, said she visited the establishment because of the DJ playing. She added she would continue to go as long as Lot 10 brings in good DJs or musicians. The size of the space, she said, also appealed to her.
"Lot 10 is a good size, whereas the other places are really small and get overtaken very quickly by people," she said.
In charge of marketing and booking, Riis has already hosted many different types of events to the lounge, such as DJs, musicians and even storytellers.
"Having the lounge open for two months now, we have pretty much sliced into every demographic of Ithaca," Foley said.