Memories, metaphors and ghost-brides swirl within the ink of "Almost Everything Takes Forever," a compilation of poetry written by Kirsten Wasson, assistant professor of English. Wasson, who teaches multicultural American Literature at Ithaca College, is a widely published poet. She also writes nonfiction that has appeared in Ascent Magazine and The Ithaca Times. Resembling the tone of memoir, her poems speak of the connections with her mother, son and sense of self.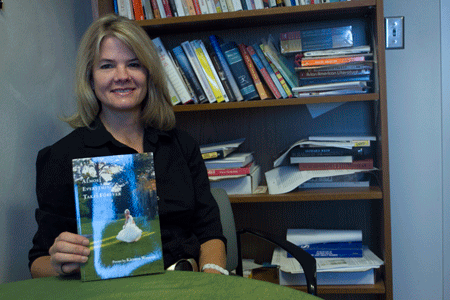 Staff writer Jillian Kaplan spoke with Wasson about her passion for writing and her new book.
Jillian Kaplan: What drove you personally to start writing?
Kirsten Wasson: Alienation, a feeling of not being quite in sync with where I was and longing for that. Longing for — well, longing for belonging sounds like a bad country western song, longing for place. And this book is definitely concerned with place.
JK: How long did the process of writing this book take?
KW: I was just going to say — a long time coming that book. Everything takes forever. Some of those poems go back, very few of them, but about two or three go back to poems I wrote in my mid-20s, and I'm now 50, so some of them have been revised and revised and revised and revised. I got an MFA at SUNY Binghampton in '86, so about two of these poems I wrote during that time. So I guess I would say, what is that, 25 years.
JK: Did you intend to create a compilation?
KW: I did. I've always wanted to have a book. It's hard to get a book. I have been sending my stuff out since my early 20s. And I have been publishing since my early 20s, but it's one thing to get a poem published in a journal. I have about 45 poems in journals. It's so much more difficult to actually get someone to sign on for a whole collection primarily because we're not a poetry-reading culture.
JK: Are your poems largely autobiographical?
KW: That's a hard question to answer because you don't want anybody to read your poetry thinking, 'Oh, now I know about that relationship,' or 'Now I understand how she feels about her son,' because it's never that literal. The people you know and the relationships you have are completely different as they are lived than they are on the page because you've sort of shaped what you've experienced into language, and language can never fully describe the way it is to be alive or to be in a relationship with someone. But it's a kind of facsimile, and it's also kind of an honoring feeling that you have with that person.
JK: Do you ever feel like your poems are finished?
KW: I would say yes, I feel that some of these poems are finished, but if you talk to me in two years, I would probably say something else, because I have thought some of these poems were finished, and then years later looked at them and thought, that line break is wrong, that image is wrong, that rhythm is wrong, which I have to say — it's not frustrating — it's somewhat exhilarating to feel like you can work on this thing that it's still speaking to you, and you're still speaking to it.
JK: Do you have any advice for current or younger writers?
KW: Read as much as you can. Find readers and editors who understand what you're trying to do but aren't overly sympathetic and have a notebook where you make observations all the time, because it's a practice, like finger exercises for a pianist. You just need to constantly be looking, listening, tasting, smelling and trying to find a way to know and read.
Copies of "Almost Everything Takes Forever" can be ordered on antrimhousebooks.com.