Looking strictly at the numbers, last year's field hockey team came up short of a successful season.
The Bombers finished 8–8 and 4–4 in Empire 8 play and missed the playoffs after finishing fifth in the conference, thus failing to clinch an Empire 8 championship for the eighth consecutive year.
But numbers can be deceiving, and no one knows this better than head coach Tracey Houk, who is entering her 20th year at the helm of the program. Houk said last year's team actually exceeded expectations and was more successful than her 2013 squad, even though the 2013 team posted a better record.
"We were playing better than we had in years," Houk said. "Our goal was to get to .500, so we are proud of that. The past four years, we have only been getting better."
And with 20 new players entering the preseason mix for 2015, Houk said the added depth, combined with an experienced core of returners, should make the end goal of the elusive Empire 8 championship more attainable.
The Blue and Gold return last season's top-scorer, junior midfielder Colleen Keegan-Twombly, to anchor an offense that averaged just over two goals per game last season. In comparison, conference-leading Utica College netted 4.4 goals per game.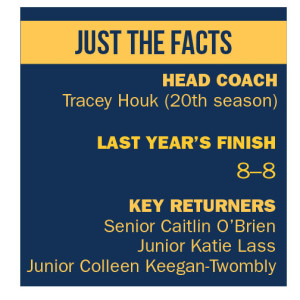 Keegan-Twombly ranked ninth overall in the Empire 8 last season with 58 shots and led the Bombers with nine goals and 20 total points en route to an All-Empire 8 honorable mention.
On offense, the South Hill squad also returns with senior forward/midfielder Olivia Salindong and junior forward/midfielders Lauren Delia and Cassie Schuttrumpf, all of whom started regularly last year. Salindong said offensive consistency will be one of the biggest focal points this season.
"I think we have to be more aggressive and more on the offensive side," she said. "We need to shoot more and be more offensive as a whole."
Meanwhile, the Bombers return one of the conference's best goalkeepers in junior Katie Lass, who led the Empire 8 with an .815 save percentage and five shutouts last season. The only goalkeeper on the 2014 roster, Lass played every minute of every game in the net for the Blue and Gold.
Houk said depth could be a continued issue at the goalkeeper position in 2015, and of the 20 freshmen, none play goalkeeper.
"Obviously I was recruiting a goalkeeper, and the stars did not align, and I did not get one," Houk said. "Right now, we are interviewing field players to play goalie."
Lass said at the team's preseason meetings, Houk gave her field players the opportunity to express interest in playing goalie. She said about four players volunteered.
Houk, who was not a goalkeeper during her playing career at the University of North Carolina, said the addition of assistant coach Maureen Ordnung to the 2015 staff will be beneficial in finding Lass' backup.
"It helps that my assistant is a goalkeeper coach," Houk said. "I'm excited to work with her."
Defensively, senior backs Caitlin O'Brien and Laurel Shnider, as well as junior back Hannah Gerber return after seeing significant playing time in 2014. Where the offense struggled last season, the defense was arguably the best in the conference, allowing 1.75 goals per game — just 28 total on the season — to lead the Empire 8.
O'Brien, Salindong and Shinder are the only seniors on the youthful 2015 roster, but Shinder said they are turning this into an advantage.
"Because there are so few of us, it's easier to work together and talk things through," she said. "The juniors and even some of the sophomores have been doing a really good job of stepping up and helping us."
And with the 20 incoming freshmen — the team carried just 20 total players on its roster last year, and Houk said the roster will likely expand this year even after she makes cuts — upperclassman leadership will be one of the keys to success, O'Brien said, though she also emphasized the strength and talent in the new players.
"We scrimmaged with them last night, and they really gelled with us," she said after the team's second day of preseason practices Aug. 20. "We were very impressed with the amount of talent Coach brought in this year."
Houk said talent should help translate to the conference championship that the team has been seeking for nearly a decade.
"We really did a lot of pushing, recruiting-wise," she said. "The recruiting is there. But every season is different, and you never know what's going to be thrown at you, and you just kind of roll with the punches. At the end of the day, we want to be Empire 8 champions. That's the ultimate goal."