After five consecutive second-round losses in the NCAA Tournament, the Ithaca College women's tennis team is heading into the fall season ready to move forward.
Despite losing four of their top six players to graduation, the Bombers will look to break that losing streak while also continuing their 10-year run as Empire 8 champions.
Head coach Bill Austin said he is not worried about who will step up and be the leaders this fall, and he has many players who are ready for the challenge.
"We're looking at everybody to be a leader," Austin said. "That gives you a really strong team.  We have a lot of players that have experience being on the team but have not been in the starting lineup. And even if they aren't in the lineup this year, I'm going to look to them for leadership because they've been around the block a few times."
Austin also mentioned lone senior Marni Blumenthal and No. 1 starter junior Haley Kusak as players he expects to be leading the team throughout the season. Blumenthal won two singles matches and four doubles matches last year, while Kusak came away with wins in 11 singles matches and 15 doubles matches.
Blumenthal said, as the only senior, she will use her experience on the team as her main form of leadership. Similarly, Kusak expects to be a leader, not only because of her position in the lineup, but also because of her familiarity with the team.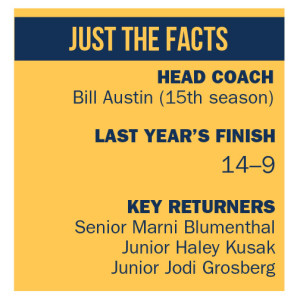 "As a returning player, I definitely need to step up as a leader, and regardless of one's position on the ladder, leadership is equally important, and every returning player should try to help guide the team to success," Kusak said.
The team will be looking to both of these veterans for leadership on the court as well as off of it.  Kusak, a two-time First Team All-Empire 8 player in singles and former Empire 8 Rookie of the Year, will be at the front of the lineup. Blumenthal was Kusak's doubles partner in 2014.  
Other players with experience going into this season include juniors Sydney Greenspan, Jodi Grosberg and Maddie Overholt.
Greenspan said she is ready to help unify the team as she enters her third season as a Bomber.
"In my two years on the team, I have noticed that a closer team off the court creates a stronger and more supportive team on the court, so I hope to help the first-year students adjust to college life and playing college tennis, and to help the team bond as a whole," Greenspan said.  
Losing four seniors from last season means the team will have a large number of freshmen coming in with the hopes of making the team. The expectations for newcomers will be the same as all of the experienced players. Austin said the effort they put in is going to be crucial to their success.
"There are a lot of unknowns right now, and we won't truly know until those first hits at practice, but I expect great effort, great attitudes and a desire to compete," Austin said.
Kusak said she will be looking more at the freshmen's attitudes in order to ensure everyone is a part of a cohesive team.
"All I expect from the freshmen is for them to have great attitudes and enthusiasm on and off the court," Kusak said. "I expect that they will give their all to the team and support us throughout the season."
As the season quickly approaches, with the team's first match being Sept. 5 at Wheeler Tennis Courts against Utica College, the players are excited and ready to extend their streak of Empire 8 Championships. Overholt said the team uses the streak as a catalyst to enhance its performance at practice.
"Even though we have won the Empire 8 for 10 years, we never go into a season thinking it's going to be easy," Overholt said. "Coach always says, 'There is a target on our backs.' We are the ones with everything to lose, and we definitely use that as motivation."
Austin said he expects the team to be able to compete for another conference championship, and if it puts in the work, it should be able to do just that.
"There's no secret formula to winning. It takes hard work; it's working hard in practice, it's preparing for matches and being ready to compete at the highest level we can," Austin said.