The World Conflict: Divided by Ethics and Culture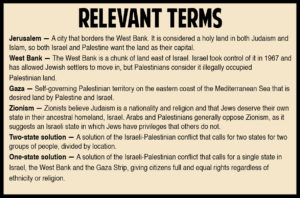 The Israeli-Palestinian conflict is a struggle over land, rights and freedom between Israelis and Palestinians that began in the mid-20th century. While the conflict is often associated with religion, it relies heavily on ethics and division of land.  
The 19th century, particularly in Russia, saw an upsurge in anti-Semitism in the form of pogroms. While the majority of the Jewish population did not support Zionism, some people became Zionists as a response to anti-Semitism and the fear of losing their culture.
Tensions rose in the 20th century between European Zionists and Arab people. Zionists created an environment where agriculture and businesses flourished but established Hebrew-only labor on certain sectors of land. Arab resistance grew against Zionists who were trying to displace them, some extremists turning to terrorism. Violence grew on both sides. Currently, two Palestinian parties have control over Gaza and the West Bank, and Israel controls the majority of the country. According to a 2015 World Bank statistic, 8 million people are living in Israel, 6.4 million people in Jordan and 4 million people in Palestinian territories, with many refugees relocated throughout the country.
The Ithaca Campus: Divided by Politics
According to Hillel International, the largest Jewish organization in the world, 11 percent of Ithaca College undergraduate students are Jewish. While the hostility associated with the Israeli-Palestinian conflict isn't prominent on campus, the divide between these groups has mirrored the relationships among on-campus organizations with conflicting political opinions.
Students for Justice in Palestine is a national pro-Palestinian college-student organization. Junior Taranjit Bhatti, co-president of SJP, said the college's chapter of SJP does not have a solidified stance on the Israeli-Palestinian conflict, nor does it affiliate with the national SJP organization.
Sophomore Norah AlJunaidi, vice president of SJP, said the college's chapter of SJP is not yet affiliated with the national organization because they feel the pro-Israel stance is more prominent on campus.
"I am half Palestinian," AlJunaidi said. "But for me to even say that would cause a conflict. … I mentioned to someone that I was going to Palestine this summer, and she wasn't very accepting of it."
The political conflict has contributed to limited dialogue on campus — something Bhatti said began back at an inter-club dialogue event Feb. 23 in Textor Hall.
"The conversation that we did have was ridiculous," Bhatti said. "It wasn't productive in any way. … There was no actual discussion of what we, as groups, can do here."
The discussion, moderated by junior Nalani Haueter, student president of Hillel at the college, included SJP, J Street U and Students Alliance for Israel. The college's section of Hillel did not participate in the event. J Street U is the college branch of J Street, a pro-Israel, pro-peace organization that believes the United States should be a key player in creating a two-state solution.
Hillel has set restrictions on the services, discussion topics and events that can be held on campuses around the globe. Hillel does not permit any of its college organizations to interact with pro-Palestinian groups.
Harriet Malinowitz, adviser of Ithaca College SJP and lecturer in the Department of Writing, said although the conflict is addressed on campus, it isn't discussed as deeply as it needs to be.
"On campuses across the country, this is a major issue of strife and conflict," Malinowitz said. "And so far, at IC, it hasn't been — at all."
In late 2013, the Hillel sector at Harvard University was under fire by Hillel International for planning to co-sponsor a discussion with a pro-Palestinian group.
Haueter said that while the Hillel sector of the college campus cannot meet with certain organizations, Hillel encourages productive, open dialogue.
"We can't host anti-Israel speakers," Haueter said. "We can't host groups that we know are anti-Israel. But that doesn't mean we can't work with an organization like J Street U, which is in support of a two-state solution," Haueter said.
Junior Liz Alexander, co-president of SJP, said that while there haven't been collaborative events with Hillel, past discussion events have presented the opportunity to bring alternative perspectives to light. She said this might differ on other college campuses.
"Even if dialogue is tense, the fact that we are able to get together and talk about things is something that might not be universal on all campuses," Alexander said.
Haueter said she agreed that Hillel organizations on other college campuses often offer a limited perspective of the Israeli-Palestinian conflict. However, she said she feels the college's chapter of Hillel is different.
"Hillel International is in support of Israel, sure," Haueter said. "But that doesn't mean that members of our Jewish community can't be involved in other groups. They encourage having productive discussions on campus, whatever that may be. If Hillel is co-sponsoring an event, there are certain guidelines we need to follow, but outside of that, the students are encouraged to do their own research."
United Through Education
New to the campus is the Ithaca College chapter of J Street U. Senior Sam Rubin, president of J Street U, said the organization is essential to educating students on campus about the conflict.
"J Street U is a national organization interested in securing peace in Israel, in Palestine from a left-wing perspective," Rubin said. "We want a solution that supports a democratic state for both Israel and Palestine."
Last month, J Street U worked with the college's chapter of Hillel on the Israeli Film Festival, a weeklong series of films and workshops about Israeli culture. On April 20, the organizations will collaborate with Artists 4 Israel, an organization that works to benefit Israeli communities through art. With help from Stand With Us, a pro-Israel organization that promotes education as a path to peace, and SAFI, a mural will be spray painted at 2 p.m. by members of both on-campus sections at the Free Speech Rock.
Haueter is the first Stand With Us Emerson fellow on campus. Haueter said her goal in Stand With Us has been to create a more well-rounded conversation about Israel.
"Because our Jewish community is very small, a lot of our members are overlapping," Haueter said. "We work hand-in-hand in that sense. I personally think J Street U is a great addition to this campus because they offer a different perspective … in the conversation."
Malinowitz said the small-scale solution to this thousand-year problem is through education.
"A lot of the students on both sides have limited knowledge," Malinowitz said. "Most of them know very little of the history of Zionism. … Really, I'm not on any side. I'm on the side of human rights."
Aidan Lentz contributed reporting. Norah AlJunaidi is a copy editor for The Ithacan.