"SOS"
4/5 Stars
Following a five-year hiatus from her hit sophomore album "Ctrl," SZA returned to the music scene with the release of her highly anticipated third album, "SOS," on Dec. 9, 2022. The ambitious 23-song collection, clocking in at just over an hour long, expands upon the familiar "sad girl" themes that SZA has explored in her earlier work: revenge, longing and insecurity.
Counter to the often melancholy messages that SZA relays in her music, her performance in "SOS" is notably looser and more confident than her cadence displayed in "Ctrl" (2017) and "Z" (2014). She weaves in and out of pockets effortlessly, issuing line after line that lands with precision. There is nothing scatterbrained about her music. 
Despite the familiar content, SZA keeps her newest release fresh through the incorporation of an eclectic roster of genres, including R&B, pop and indie rock. The melting pot of styles works to ponder and interrogate SZA's conflicting impulses — casual sex or lasting love, relationships or independence, revenge or forgiveness, self-questioning or self-respect, familiar problems or a new start, power or trust — while showcasing her growing comfort and versatility within her own artistry.
In her decade-long career, SZA has proven that her strength as an artist lies in her sharp writing and the blending of genres to build her own unique sound. This, mingled with the stream-of-consciousness flow that many of her songs emote, shapes much of "SOS" into a deeply personal testament of work. However, the reiteration of such familiar themes and agendas without incorporating any notably new ideas subtracts from what could have been an undeniably original and classically vulnerable installment to SZA's discography.
– Tess Ferguson, Assistant Sports Editor
"Roald Dahl's Matilda the Musical"
4.5/5 Stars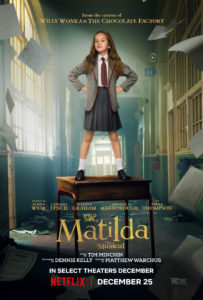 Comedian Tim Minchin's stage musical adaptation of Roald Dahl's "Matilda" has now come to the silver screen — or rather, Netflix. The film, directed by Matthew Warchus, follows Matilda Wormwood (Alisha Weir), a bright five-year-old girl who dreams of a life where she is free to read and learn without the interference of her less-than-loving parents (Stephen Graham and Andrea Riseborough). When Matilda is forced to go to Crunchem Hall, softhearted school teacher Miss Honey (Lashana Lynch) helps Matilda find the courage to "change her story" and stand up against those who try to tear her down.
The adaptation stays true to the musical in its whimsical production design and exciting musical numbers. Even the blocking in certain scenes is reminiscent of the stage show, which was also directed by Warchus. The first scene immediately tells the viewer exactly what kind of film they are in for. "Miracle" features newly-birthed babies singing about their parents, and new mothers and fathers dancing through a brightly-colored hospital. While the film is certainly intended to be a bit ridiculous and over-the-top, it still thrives during more intimate, emotional moments, like "Quiet" and "Still Holding My Hand," the finale song which was written specifically for the film. Lynch is a standout among the cast, playing Miss Honey with an earnest optimism that shines through the screen. Even in her pain and fear, there is a softness in her demeanor that can only be read as love. She brings color to the dark, dull environment of Crunchem Hall.
"Matilda" is a sweet story about a little girl and what she is capable of when she has love. Warchus's adaptation allows this little girl to dream big and invites its audience to do the same. The brilliantly-written songs and exhilarating choreography by Ellen Kane — together with such choices as having Matilda imagine herself sitting on a hammock in an air balloon while she is being yelled at by her headmistress — make "Roald Dahl's Matilda the Musical" a rather silly, but utterly enjoyable viewing experience for the whole family.
– Lily Lipka, Staff Writer
"White Noise"
5/5 Stars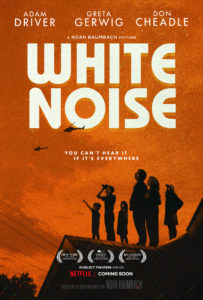 In a world ever-shifting to the whims of those in power and popular culture, there is a ringing in everyone's ears. And despite people's best efforts, or the distractions provided by one another, the ringing doesn't stop. It nags and chews at the mind, begging to be thought about and dwelled on. This metaphorical ringing is the looming inevitability of death, the central tenet of "White Noise."
Previously thought to be unadaptable by Hollywood, Don DeLillo's novel of the same name has finally been translated to the screen in the first adapted work by writer/director Noah Baumbach of "Marriage Story" fame. Baumbach imbues a creeping fear of the inevitable throughout the film excellently conveyed by Jack Gladney (Adam Driver), a world-renowned professor of Hitler Studies at the local college and Jack's wife Babette (Greta Gerwig), a yoga instructor who may be keeping secrets from her spouse.
With an airborne toxic event threatening the security of the Gladney family, they must grapple with their relationships, secrets and fears, unsure of what their next move might be. But the real horror is in the aftermath. What will come from this horrible event? Baumbach asks the audience to think of the idea of death as a rock in one's shoe. Perhaps it doesn't hurt at first, but the longer one walks on it, the deeper it digs into one's foot and there will come a breaking point. And Baumbach expertly emphasizes the feeling of fear that death imbues within, making audiences feel stagnant and unable to move beyond what seems to be an eternity of nothing.
But in the world of the Gladneys, like ours, if there is dread, there is hope. There will always be family and friends.
– Patrick Mazzella, Staff Writer
"Avatar: The Way of Water"
3.5/5 Stars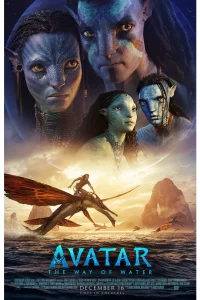 Director James Cameron's love of boundary-pushing technology, large-scale special effects and aquatic life makes a return in "Avatar: The Way of Water." The long-awaited sequel to Cameron's record-breaking film "Avatar" (2009) comes out after thirteen years in the works. In that time, Cameron continued to expand his vision for the fictional world of Pandora and began to plan for the next four installments. He also spent time investing in new motion capture technology that can work in underwater sequences. 
The film follows Jake Sully (Sam Worthington) and Neytiri (Zoe Saldaña), fourteen years after the events of the first film, as they care for their five children and are on the run from the RDA, the corrupt corporation from Earth that carries on with its plan to colonize Pandora. They end up meeting a new clan of Na'vi, located on the oceans of Pandora, and must adapt to their way of living. However, the film falls into many of the same storytelling traps as the first one, with story beats that tend to feel formulaic as it rehashes many of the ideas and messages that the first film sets up. There is still enough visceral action and bold scenery to keep the audience immersed in the world of Pandora for its three hours of runtime, but it would have been more satisfying if that were attached to a story that was more daring. 
Another element of the film that is of note is its bold decision of filming at 48 frames per second. This was likely done to make the action scenes appear crisper and to remove any motion blur. However, the film tended to alternate between both 24fps and 48fps seemingly at random, often making the use of the 48fps feel unnecessary and underutilized. Still, "Avatar: The Way of the Water" is a technical marvel that, despite its flaws, remains one of the most striking large-scale productions that should be witnessed in theaters.
– Giancarlo Messina, Staff Writer
"Babylon"
4.5/5 Stars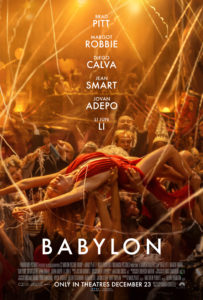 Writer and director Damien Chazelle brought 2022 to a close with a brilliantly chaotic pop in his comedic drama spectacle, "Babylon." The film primarily centers around Manny (Diego Calva) and Nellie (Margot Robbie), two dreamers who quickly find themselves launched into the glamour-filled and debauchery-filled world of 1920s Hollywood just as it nears the end of the silent film era.
Through all of the sex, drugs and lawlessness on display, Chazelle layers an admiration of movie magic mostly through Calva's performance as Manny. His journey from the very bottom as an elephant wrangler for Hollywood's most extravagant parties to a major producer — and everywhere in between — is brilliant. Even in his darkest moments, the audience still finds themselves rooting for him to succeed — all thanks to Calva's charm and charisma.
Robbie delivers a magnetic performance as Nellie. Viewers fall in love with her life-of-the-party personality alongside Manny. They experience his awe as she becomes one of Hollywood's biggest stars, along with his anguish as she slowly begins to lose everything throughout the early days of the introduction of sound.
Clocking in with a runtime of over three hours long, "Babylon" could have either been a bit shorter or some of the time that was devoted to the character Jack Conrad (Brad Pitt) could have been used to strengthen the relationship between Manny and Nellie. While Pitt is terrific, his supporting role is substantial enough to be considered a third lead with little justification.
"Babylon" is a display of electrifying energy made up of Chazelle's direction, all of the film's performances and especially Justin Hurwitz's magnificent score. All of the talent on display in front of and behind the camera makes "Babylon" a magical experience that begs to be seen.
– Evan Miller, Staff Writer
"Guillermo del Toro's Pinocchio"
4/5 Stars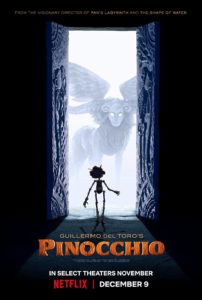 In "Guillermo del Toro's Pinocchio," visionary director Guillermo del Toro presents audiences with a unique retelling of the classic tale through a gorgeous stop-motion animated lens.
The amount of care and detail visible through each character's movement alone in the movie is enough reason to applaud what has been accomplished by del Toro and his team. Yet, the visual beauty is further enhanced by what may perhaps be the greatest adaptation of Pinocchio since Disney's 1940 masterpiece. Del Toro does an amazing job of differentiating his film from every other previous adaptation by heavily leaning into the story's more adult themes and inserting a unique mythological twist that not many other directors could have pulled off.
While del Toro's retelling does feel different enough to serve as a unique experience for those who are already familiar with the story of Pinocchio, they will find that there are still plenty of familiar elements for them to recognize. While Sebastian J. Cricket (Ewan McGregor) attempting to teach Pinocchio (Gregory Mann) right from wrong, or Pinocchio venturing into the belly of a whale to rescue Geppetto (David Bradley) are important events to include, these familiar beats at times feel as though they intrude upon some of the more original aspects of del Toro's storytelling.
While they never clash, some viewers may leave the film wishing there were more scenes devoted to the interesting mythological additions made by del Toro or a further twist on events that viewers expect to see in a Pinocchio story. Regardless, del Toro clearly poured all of his love into his movie and successfully crafted an original work of art that will dazzle anyone who experiences it.
– Evan Miller, Staff Writer
"Corsage"
2.5/5 Stars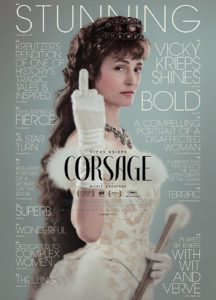 Ever since her star-making turn in Paul Thomas Anderson's film "Phantom Thread" (2017), Vicky Krieps has become a true beacon of arthouse cinema. With her latest turn in director Marie Kreutzer's lavish, unconventional period drama "Corsage," Krieps proves that even when the film itself is lacking, she can command any role with precision.
When Empress Elisabeth of Austria (Krieps) turns 40, she is suddenly deemed an old woman by the confining, patriarchal society around her as she tries to redefine her legacy before her death. Kreutzer's film takes a unique approach from typical costume dramas with its refreshingly feminist lens. Less attention is given to concrete plot and more so to character study.
The strongest aspects of "Corsage" are easily the empathetic, unwaveringly bold acting from Krieps, the use of modern music throughout and lavish costume designs that not only help to bring the 1870s European time period to life but also help to illustrate how royal life sets out to restrict women.
While its themes are immensely interesting, "Corsage" unfortunately ends up falling flat because of its lack of a strong, committed tone. There are occasional moments in the script that allow for Empress Elisabeth to be dry and witty with her dialogue or even throw up a middle finger to an entire dinner party on her way out. It's a shame that more of these moments couldn't have been featured. Kreutzer cannot seem to decide if she wants to lean fully into dark, rebellious comedy or slowly building drama, the end product falling somewhere in between.
The script lacks a strong voice to make the audience care all the way through, which is disappointing with all the potential on display here. The cinematic images that Kreutzer is able to create are compelling as individual portraits, but as a whole, the film just doesn't materialize.
– Matt Minton, Co Life and Culture Editor
"Puss in Boots: The Last Wish"
4/5 Stars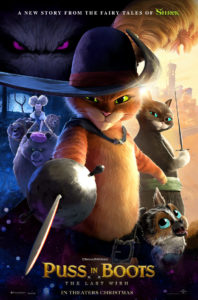 Everybody's favorite fearless hero, Puss in Boots (Antonio Banderas), has put another gold star on Dreamworks' film catalog.
In this stunning sequel to the famous feline's 2011 solo film, after a fight with a giant ends in his death, Puss learns that he is down to the last of his nine lives. However, with a magic star that can grant a single wish, he might find a way to save himself — if old friends and foes don't get in the way, that is.
One of the primary aspects of this movie that will stick with viewers is its potent themes. The story tackles the meaning of life, the fear of death and what our lives mean when they come to an end. It is surprisingly mature and likely to engage even the most fervent opponents of animated films.
"Puss in Boots: The Last Wish" knocks it out of the park with its meticulous animation. It is fluid, expressive and a spectacle to watch. The fight scenes in particular perfectly utilize movement, not only in how the characters leap across the screen but also in how the camera follows them.
The story is predictable at parts but never enough to make it unengaging. The main trio's chemistry, particularly between Puss and Kitty Softpaws (Salma Hayek Pinault), packs a lot of laughs and heart. Although having six villains admittedly feels a little overstuffed, their backstories, jokes and motives are enough fun to not feel overdone. And while Goldilocks (Florence Pugh) and "Big" Jack Horner (John Mulaney) are great antagonists, Wagner Moura as Wolf steals the show with a terrifying performance.
Overall, "Puss in Boots: The Last Wish" will be a satisfying meal for starved animation fans and a breath of hope for fans awaiting the next "Shrek" film.
– Joshua Pantano, Staff Writer
"No Thank You"
4.5/5 Stars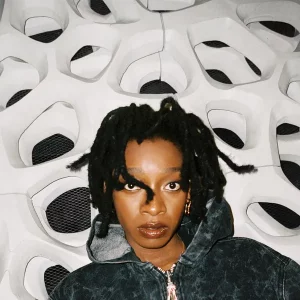 Little Simz returns for a more rough-around-the-edges follow-up to what many people consider to be the best hip-hop album of last year.
The Mercury Prize winning 2021 album "Sometimes I Might Be Introvert" is an extravagant and ambitious landmark of U.K. hip-hop. Its involved storytelling and massive scope have landed it as Simz's most impressive effort yet. Her 2022 follow-up stands in stark contrast to that album, with more roughly produced beats and outward lyricism; powerfully named "NO THANK YOU," Simz's newest masterpiece expands on the themes of her 2021 opus without sounding too much like a collection of outtakes or an unneeded epilogue.
The minimal and expertly penned "Angel," the grand statement that is "Gorilla," the clever and scalding "No Merci" and the momentum-fueled "X" are all great highlights here, but they all bow down to the centerpiece of the album, "Broken."
"Broken" is a 7-minute monster of a track that dives deep into generational trauma, mental health struggles and coping mechanisms. It is by far one of the most heartbreaking and pressing songs of 2022, and it just proves that even when Simz is taking a more robust approach to an album, she still can't help but flex her ability to focus all in on a singular topic to maximize emotional impact.
Not many artists are on the same level as Little Simz right now. Her consistency, lyrical ability and craft are all top-notch, which is why it is unsurprising that she has put out one of the best hip-hop records of the year two years in a row.
– Jess Williams, Staff Writer