Besides the two cups of tea that I had to get rid of a cold, last week I only drank water!  I filled up my bottle (seen below) about 3-5 times a day, and felt really good about it. There were many times that I wanted to go for the root bear, but I held myself together, and did not give into temptations.  I would like to clarify one thing: Putting milk in your cereal does not count as not drinking water, it is a package deal.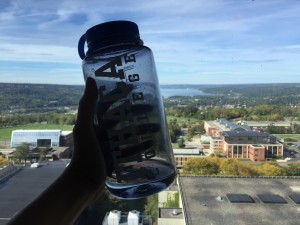 This week's challenge is the the most difficult so far.  No more desserts (for a week at least).  The dining halls are filled with ice cream, pies, cookies and cakes everyday.  If they're all ready for me to pick up and eat them, how am I supposed to say no? Well this week, that's all I am allowing myself to say. I don't think that I need sources this week to tell you how bad all those dessert are for you, especially if you eat them after every meal, or even every day.  I will be turning towards the lovely, naturally sugary desserts called fruit this week.
If you take any of my weekly challenges, take photos and tag them with #LGAHT !   I only had one meal that included a side of fries this week, so that shows incredible progress for me.  Continue the weekly challenges and keep track of how your habits go away!