Against the massive boulder towering above her, senior rock climber Lauren Denecke is small. She's just a tiny piece of a much bigger puzzle.
As she starts climbing, Denecke is relaxed. She has to be. One wrong move, and she'll fall. And while she may be attached to a rope, the possibility of injuring herself is still likely. While making her way up the rock — so steep and unyielding — her movements are precise against the bone-dry sandstone, every move just as methodical and calculated as the last.
The rock is cold, but this creates just the perfect amount of friction for her hands, white with chalk, to grasp onto the rough surface. She continues to climb, her body exposed as the feeling of nothingness envelops her. But soon enough, whatever mental and physical exhaustion Denecke is feeling will be well worth it when she reaches the top of the Red River Gorge in Kentucky, her favorite rock climbing spot. Cue a sigh of relief.
"You're feeling that whole connection of you to the rock through your arms and trying to get your muscles to do the things that you want to do, and there's that physical strain and then the sense of accomplishment when you can do it, and it is just so awesome," Denecke said.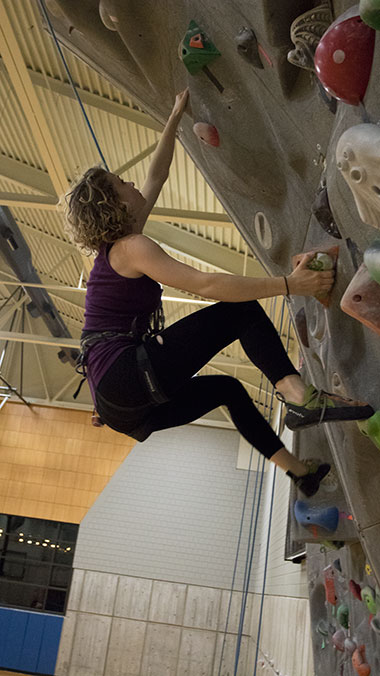 At Ithaca College, Denecke is one of about 15 dedicated rock climbers. In recent years, the rock climbing community at the college has grown, with both experienced and inexperienced climbers venturing up the climbing wall. Denecke said about 10 to 20 students come to the rock wall at the Fitness Center to climb every night. On the national scale, according to the Climbing Business Journal, the number of commercial climbing facilities in 2014 was 353, up from 310 in 2013 and 282 in 2012.
Denecke began rock climbing at 10 years old, when her mother picked up rock climbing herself. In between fourth and fifth grade, Denecke's mother put her in summer camp, where she spent weeks learning to climb. Her weeks of climbing would prove to pay off, and in her first year of climbing, she qualified for the American Bouldering Series Nationals in Boulder, Colorado.
Prior to her rock climbing career, the Pennsylvania native had been a competitive gymnast since the age of 6. Denecke said her extensive gymnastics experience played a big role in her success as a rock climber because she had already built up a large amount of strength and flexibility.
Denecke said there is a misconception that climbers only use their arms. She said good climbers know how to work their arms, legs and core to ensure a successful climb.
"Coming from a gymnastics background, I had a ridiculous amount of strength in all of those categories, and I had zero fear of heights," Denecke said. "I had no problem. I had fallen off of so many high bars. I had fallen off of so many beams, and I'd flipped myself through the air. So I was like, 'Oh, OK. There's a rope holding me, like fine. That's great. If I fall, I will swing. That's fun.'"
Ultimately, Denecke said training for climbing depends on one's body type. Senior rock climber Dylan Herman-Dunphy, who has much upper body strength but is not lean and flexible, said he is better at shorter, harder climbs. Because Herman-Dunphy is bigger, he said he has to have that much more muscular endurance to compensate for his extra mass.
However, Denecke said she tends to be weak in her shoulders, so doing pullups and pushups is essential to her training. She said it is also important to have both good wrist and grip strength. In this way, Denecke is much better at harder, more technical climbs.
"Climbing is very stylistic," Denecke said. "Watching somebody do it can be helpful or cannot be helpful at all. And so there are people who climb like you, and there are people who climb nothing like you, and everybody kind of has to figure it out."
Junior rock climber Sean Phillips, who is also on the the cross-country and track teams, said one important aspect of training is a person's strength-to-weight ratio. Phillips said running helps his strength-to-weight ratio because he manages to stay very lean, while also having much core and upper body strength.
Phillips said he started to rock climb when he was 12 years old but did not get completely into it until he came to the college. He said when second semester of freshman year hit, he started going to the climbing wall every day.
Phillips got into rock climbing so much that he even built his own rock climbing wall in the upstairs of his barn at home by taking big sheets of plywood and nailing them into the slope of the roof. As a college student, he said he also did not have enough money to buy holds — the grips climbers use to grab or step on — so he ended up emailing rock climbing hold companies and telling them he was starting a small gym in Aurora, New York.
"Probably 10 or 12 companies sent me different assortments of climbing holds for free to test them out," Phillips said. "So I got probably 80 or 90 holds for free, and they're really expensive, so I was pretty pumped about that."
Phillips said being able to consistently train during the summer brought his climbing skills to a higher level. In recent years, Phillips has spent the summer months rock climbing outside, and he was a rock climbing instructor in Maine this past summer. While Phillips said he enjoys training inside, he said nothing matches climbing outside, where it comes down to the climber versus nature. Phillips said what he enjoys the most about climbing outside is being able to take in the beauty of the nature around him and working with the intricacies of different shapes of rock that can't be recreated indoors.
Ultimately, junior rock climber Peter Zibinski said, outdoor climbing cannot be replicated, but he said indoor climbing does help prepare climbers physically.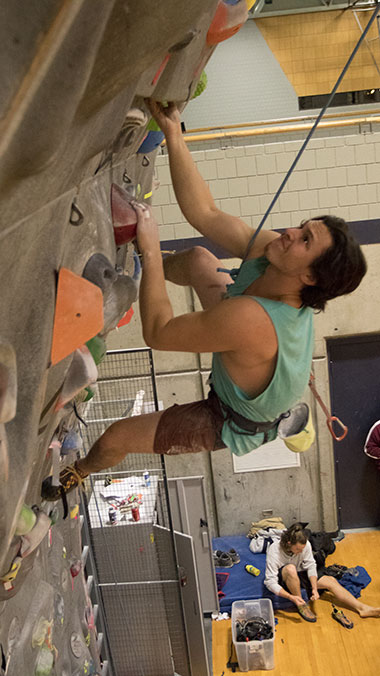 Herman-Dunphy, who is a senior wall attendant and route setter at the climbing wall in the Fitness Center, said he doesn't believe either is superior to the other. As a route setter, he is responsible for developing the paths to the top of the wall, which vary by difficulty based on specific moves or aesthetic appeal of the climb. He can change the difficulty by using more complex holds and placing holds in certain areas to make a move harder, and different routes are marked by different colored tape. He said while he can try to create a similar climbing experience inside, it cannot ever be the same as outside.
"Indoor climbing is becoming very much a sport, and routes indoor are less and less like a route outdoor in that you get a lot of geometric shapes in indoor and weird movements that would be impossible for nature to create," Herman-Dunphy said.
Aside from the physical component of rock climbing, there is also a large mental component, especially when it comes to fear, and Phillips said far too many people discount the mental aspect of climbing.
Along with analyzing angles and figuring out the best way to get up the rock, Denecke said rock climbers have to be careful and methodical and said fear does ultimately play into the climb. She said admitting and embracing the component of fear is important, but it is also essential for climbers to have confidence in their abilities and control over their emotions while in the face of danger.  
"It all comes down to you're either going to get kind of hurt, you're going to get really hurt, or you're going to die or you're going to be fine," Denecke said. "You sit there for a minute like, 'That's f—— terrifying,' and then you go, 'Well, all right I'm going to do it because I don't have an option.' At that point, you have no option, so you have to put the fear away. You have to trust yourself, and you have to take a breath."
Zibinski said fear plays a big role because when climbers get scared, they tend to grip the rock too tightly, which makes the climber move less fluidly and less efficiently. He said people are under the wrong impression when they think climbers are not scared of heights.
"Fear is something that is kind of ever present, and you just have to find a way to compartmentalize that and move past it," Zibinski said. "The challenge is not letting it affect your performance. So it's this whole interplay between fear and when to push the boundaries and when it is time to call it and be safe."
Despite the physical and mental barriers that come with rock climbing, Phillips said climbing comes down to being able to admire the beauty of nature and acknowledging the craft of the process itself.
"Being able to really push yourself to get up just a sheer face of rock, and then you get to the top, and you look out and get to appreciate what you've just done. The whole process is just like an art form, a way of appreciating the environment you're in," Phillips said. "It's totally an exhilarating and beautiful process."
For more on rock climbing moves and equipment, click here.