Coming off of a break tailored to eat an immense amount of food means that the gym is probably a lot more full than normal.  Personally, I didn't have access to a gym at home so I'm glad to have one right here.  As far as my eating habits went, the only thing I ate at home was leftovers, pie slices and scoops of ice cream after Thursday.  Now that I'm back on campus and separated from my family cooking, it's time to recalibrate; and why not do that with a challenge.
This week, my dinners will consist of bowls filled with salads.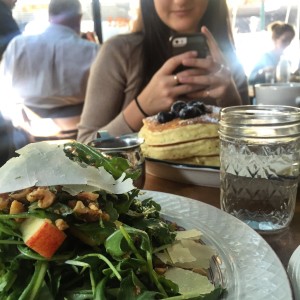 The great things about salads is that you are getting a lot of nutrients from the green base, and then having the freedom to top it off with whatever your palette is in the mood for.  The downsides of that liberty are the types of toppings we put on them; going too light may not give you enough to make it through the night, and going hard with heavy dressings and cheeses may keep from the point of having a salad.  However, the small steps that I'm taking to even want to eat a salad are huge.  My end goal of the week is to get to a point where I know what a good balance is for  this meal; yummy, filling and not forced.