While it may please fans of the book series, the film "The Twilight Saga: Breaking Dawn — Part 1" fails to adequately distinguish itself from the novel.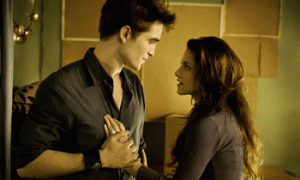 The fourth of five films of the Twilight Saga, "Breaking Dawn — Part 1" follows Bella (Kristen Stewart) and Edward (Robert Pattinson) on their journey as a newly married couple and the consequences it brings, including an unexpected pregnancy and life-changing revelations for werewolf friend Jacob Black, portrayed by Taylor Lautner.
While the Twilight films are based off of the popular book series, screenwriter Melissa Rosenberg does not bring the series to life. The plot is flat and superficial. For a large part of the film, the major conflict is that Edward doesn't want to sleep with Bella. The plot picks up when Bella realizes she's pregnant, which increases the dramatic tension and creates legitimate conflict through the story.
Plot issues mainly arise from poor source material, as the film's screenplay rarely changes from  the book. Because of this, the film feels uninspired and commercial and fails to highlight the intended theme that true love is eternal.
Director Bill Condon starts the movie off lavishly with a wedding, but his vision falters as soon as the event ends and the more serious plot lines begin. The director does a good job of changing perspectives from Bella to Jacob, a transition that felt forced and awkward in the book. In the film, the change integrates the interactions with Jacob and the wolf pack into the storyline with Bella — a surprising result that benefited from the novel being split into two films.
The special effects enhance the film by highlighting the consequences of the events and providing a particularly gruesome scene at the end. But in seeing this movie, beware, as the ending sequence's flashing color has been reported to give some audience members seizures.
While fans of the series may appreciate how  "Breaking Dawn — Part 1" is the same quality as the previous films, this also means that the flaws of "Breaking Dawn — Part 1" are consistent with the rest of the films. Intentionally serious moments are unintentionally comical, and the soap opera acting does not do the half-baked screenplay any favors, giving the impression that this film was made solely for its fan base instead of for any artistic reason.
Though it improves upon the book in some ways, "The Twilight Saga: Breaking Dawn — Part 1" falls victim to the same issues its predecessors did. As an adaptation of the novel, the film is a strong representation of author Stephenie Meyer's work but ultimately fails to stand strong as a cinematic production.
One out of four stars