For Ithaca College students like senior Li de Jong, who lives in Texas when she is not in Ithaca, access to reproductive health care is always changing. Now that the City of Ithaca has declared itself a sanctuary for abortion in addition to abortion being legal in New York, de Jong said she feels more secure.
"Going from a state where my female autonomy isn't really valued to a city that is so accepting and forward and will advocate for it is just very nice," de Jong said. "I'm gonna be honest, I have very little faith in the justice system right now. … I don't even know what could happen next. I sort of don't even want to think about it."
The Supreme Court overturned Roe v. Wade on June 24 — a ruling that had protected abortion rights since 1973 — making laws on abortion access a state affair. Ithaca became a sanctuary city for abortions July 6 after the city's Common Council voted unanimously to make the ordinance brought forth by Alderperson Robert Cantelmo into city law. 
The law prohibits city resources to aid out-of-state investigations seeking to bring criminal charges against people performing or receiving an abortion and individuals are encouraged to sue Ithaca if the law is not upheld. 
"I view this as an important first step, but a first step, in identifying ways that local and state level governments can respond to the failures of the federal government," Cantelmo said. "I see it both as an extension of these protections, but also an invitation to the community for continued dialogue on how we can work together to shore up these rights."
When the initial majority opinion draft leaked to Politico on May 2 showed that the Supreme Court planned to overturn Roe v. Wade, Cantelmo said he began to work on the sanctuary city ordinance. Cantelmo was not alone in his desire to fight anti-abortion legislation as the Ithaca community filled the streets in protest May 3 and again after the final verdict June 24. 
States like Tennessee, Idaho and Texas had trigger bans in place, meaning once Roe v. Wade overturned, laws went into effect that now enforce severe restrictions on abortion. 
De Jong said when she first found out about the Roe v. Wade ruling she was in shock. 
"I heard the rumors, like I've seen the leaked information … but then they did," de Jong said. "I didn't believe it or believe that it was possible. … I definitely want to do my part and help as many people as I can … and be there for those who are in a much less secure situation than I am."
Cantelmo said he has been in contact with the mayors and council members of other cities in central and upstate New York and the Hudson Valley about how the ordinance can be adapted for their communities. 
Cities that have passed similar laws include Seattle, New York, and Washington, D.C. Even some cities in states where abortion is now illegal are finding ways to fight anti-abortion legislation, like New Orleans; Boise, Idaho; Dayton, Ohio; Atlanta and Athens, Georgia; Nashville, Tennesse; and Austin, Texas. Those cities have policies to deprioritize enforcing abortion-related crimes in violation of state abortion bans, and to prohibit the use of city funds from enforcing anti-abortion laws.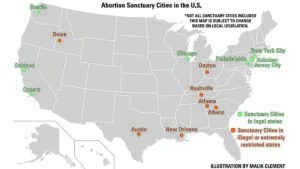 Mary Bentley, associate professor in the Department of Health Promotion and Physical Education and a member of the Women and Gender Studies Steering Committee, said she anticipates that abortion procedures will always be administered. 
"Women will find ways to take care of other women and healthcare professionals will find ways to take care of their patients," Bentley said. "This is something that women have done either with or without the government as a way to have agency in their own lives."
Cantelmo also said he is currently working with Tompkins County to launch an educational campaign warning people about crisis pregnancy centers (CPC). CPCs are organizations that seek to deter people considering an abortion, according to Planned Parenthood. These centers often look like a real health center but provide inaccurate information about sexual health and pregnancy options. CPC maps from organizations like ReproAction and ProTruth report two CPCs in Ithaca: the Cortland and Ithaca Pregnancy Center and Birthright of Ithaca. 
Aura Lopez Zarate, manager of community organizing for the Planned Parenthood of Greater New York, said Planned Parenthood has been thinking about how it can organize more around CPC awareness.
"The most important piece is that we acknowledge and we spread awareness that they do exist … and they're not truly offering sexual reproductive health," Lopez Zarate said. "As long as you go to providers that have the license to provide abortion care, including Planned Parenthood of Greater New York, abortion is legal and safe and we want to make sure that we spread that message."
Lopez Zarate said that while statistics of the past few months are not available, she has personally observed an influx of patients to in-state Planned Parenthood centers since Roe v. Wade was overturned as well as increased community support. 
"We have seen that support; people show up to our rallies, they're ready to volunteer, to speak on our behalf, to donate to abortion funds, and we would like that to continue," Lopez Zarate said.
Sophomore Therese Kinirons, vice president of the Ithaca College chapter of Planned Parenthood Generation Action (PPGA), said that because of the large student population in Ithaca — many of whom are from out-of-state or country — the sanctuary law is important. 
Fall 2021 enrollment statistics from the Office of Analytics and Institutional Research (AIR) recorded 2,238 in-state students and 2,696 out-of-state students. Fall 2021 enrollment recorded 54 students from states where abortion is currently banned, 188 students from states where abortion is legal but restrictions make abortions extremely difficult to access and 449 students from states where abortion laws make abortion difficult to access.
However, Kinirons said they hope people do not become complacent just because they themselves can access comprehensive health care.
"There's a lot of Northeast elitism here," Kinirons said. "People are just kind of like, 'It doesn't matter what happens in the South.'" 
Kinirons said there is more pressure on PPGA this academic year. They said now that clubs have started up again, PPGA will begin planning for the fall semester. 
"Spreading information and spreading resources is honestly sometimes more valuable than money," Kinirons said. "Just making sure people know what's going on and how they can help if they have the means."
Senior Nora Marcus-Hecht, an Ithaca local, said she has been volunteering at Ithaca's Planned Parenthood since high school and now does for PPGA. She said she has let her out-of-state friends know they can stay with her if they ever need abortion access and is researching transportation options for people seeking abortions in the city.
"I think what we're trying to do now, at the very least, is make sure we are still an … accessible spot for people to come to get proper health care and safe abortions," Marcus-Hecht said. "Just ways to make Ithaca more accessible to people from out of state."
According to a worldwide report from the National Library of Medicine (NLM), every year, 42 million women choose abortion and almost 20 million of those procedures are unsafe. About 68,000 women die annually from unsafe abortions. The study defines an unsafe abortion as one carried out by someone without professional skills or in an environment that is not up to minimal medical standards.
NLM also found that nations with the most restrictive abortion laws result in more frequent abortion-related deaths — a median 34 deaths per 100,000 childbirths — compared to nations with the least restrictive abortion laws — one or fewer per 100,000 childbirths. 
Bentley said she thinks there will be consequences when there is not access to safe abortions, particularly in communities of color and lower-income communities that already have less access to quality health care.
"Limiting any version of health care, because of some moral compass, that's been dictated by a Supreme Court, is not only unjust, but it's really going to have a ripple effect in many ways that I think we're just beginning to understand," Bentley said.