Arun Gandhi, grandson of Indian political and ideological leader Mohandas K. Gandhi, stood in front of an audience of about 125 people to spread his message on nonviolence, poverty and social injustice at Cornell University's Martin Luther King Jr. Commemorative Lecture on Feb. 13. During his speech, he discussed the years he lived with "grandpa" and his nonviolence campaign.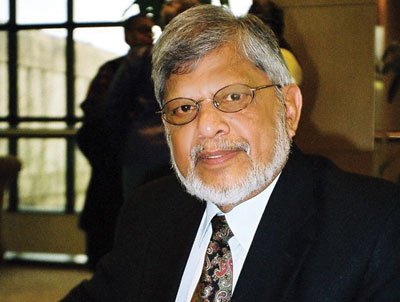 Gandhi worked for 30 years as a journalist for The Times of India. He and his wife developed projects to benefit the socially and economically oppressed. His programs have reached more than half a million people in more than 300 villages.
Contributing Writer Henry Apostoleris interviewed Gandhi about his activist work and his visit to Ithaca.
Henry Apostoleris: Can you tell me about your activist work with poverty?
Arun Gandhi: My work is to get out and spread the message of nonviolence as far and wide as possible. I also started the Gandhi Worldwide Education Institution, which has two objectives — one is to spread the Gandhi message all over the world, and the other is to rescue exploited children who live in poverty and are being exploited because of their circumstances. We want to rescue them and give them the means to get out of that cycle of poverty and become normal human beings.
HA: What message are you here to spread?
AG: I believe in nonviolence as a philosophy of life and I want people to understand that philosophy of life and apply it in their own lives so that we can all become better human beings — more compassionate, loving, understanding and respectful.
HA: How do you think issues like poverty can be solved?
AG: I am just trying to make people aware of what they can do. If they all take on the responsibility with this whole thing we can resolve this very quickly. But it needs that kind of commitment and that is what is lacking.
HA: What experiences have shaped your life?
AG: All of the lessons that I learned from my grandfather as a young boy and the upbringing that I had from my parents — who also believed in the philosophy of nonviolence — all of that has contributed to making me who I am today.
HA: How do you feel about some of the popular social movements like Occupy Wall Street?
AG: It is a very constructive and a very positive thing. I am very glad that they stuck with their philosophy. But there are a couple of things that I find lacking, which I think sets back improvement a little bit. One of them being that we don't know what they are against, and we don't know what they are for. They have not made that very clear, and I think they need to make that clear. The other thing is that they are attempting to launch a major movement without any leadership, and I think in the nonviolent struggle, it's important to have somebody who is comfortable to answer questions and lead a movement.
HA: What should people take from your talk?
AG: Well, I have come here to plant seeds. I hope that those seeds will be planted in their minds and that they will nurture those seeds, and think about it, and learn more about it.