Marching through their college's campuses, voicing their demands, many students at institutions across the nation had a collective desire: a more diverse and inclusive campus environment.
To achieve this goal, students at several colleges and universities demanded institutional change. Some student protesters called for the resignation of their presidents. Others urged for increased tenure and tenure-track faculty. Several demanded accountability, which administrations replied to by implementing a chief diversity officer.
Similarly, Ithaca College created the position and has had Roger Richardson, associate vice provost for diversity, inclusion and engagement, serving as interim chief diversity officer since November 2015 to help improve the racial climate while continuing his previous role. He created a diversity action plan with guidelines that would be addressed in a span of 2 1/2 years. However, deadlines are not being met.
After the position was added, campus community members voiced many criticisms regarding the position. Included in the criticisms were the cost of another vice president–level position and the idea of the position's being a diversity "scapegoat" for President Tom Rochon.
Rochon said he is considering other options for the position —  to have one position or transform it into a council. He said he is relying on the Council of Diversity and Inclusion to make a recommendation on how he should proceed.
Rochon said he wants to receive feedback from the CODI before making a final decision.
"Personally, I still believe that we will be most effective with a chief diversity officer, but my personal belief isn't what would govern this, so I'm very interested and anxious to get the advice from CODI," Rochon said.
Archie Ervin, president of the National Association of Diversity Officers in Higher Education, said the position of chief diversity officer has now been implemented at over 250 universities and colleges nationwide. Ervin said he has seen the trend within the past nine months to a year.
Ervin said the National Association of Diversity Officers in Higher Education is an organization composed of 600 members, which has set institutional standards for chief diversity officers since its creation almost 10 years ago.
According to a report titled "What is a Chief Diversity Officer," by Damon Williams and Katrina Wade-Golden, the history of the chief diversity officer dates back to the 1970s, when large groups of African-American students began enrolling in predominantly white colleges and universities.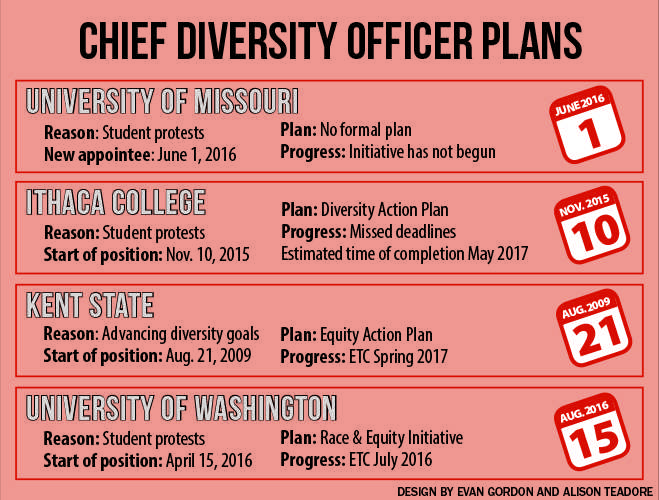 According to the report, the position faced resistance by senior leadership positions at first. Some said the role was "ghettoizing diversity" and putting all the tension and issues on one person's shoulders.
What differentiates today's chief diversity officers from their predecessors is how the function of diversity has changed from being an indicator of identity to a resource to help student learning and institutional excellence, according to the report.
Schools like the University of Washington, Kent State University, Ithaca College and the University of Missouri experienced protests regarding the racial climate during the fall semester. The protests were often spurred by incidents of racial hostility. They experienced institutional change and have implemented chief diversity positions at their respective campuses.
Gabriel Gallardo, the interim chief diversity officer at the University of Washington, said the university has a 50-year track record of doing work to improve diversity and inclusion on its campus.
In 2015, students at the University of Washington demanded a more equitable school, an end to the state-ban on affirmative action and an increase in recruitment of students of color. Gallardo said the university is working closely with the students to address their demands.
Gallardo said President Ana Mari Cauce of the university and the provost responded to the demands by creating a race and equity initiative, which began in Spring 2016, in an effort to improve equity, racial climate and issues of institutional bias and racism.
"If we are truly invested in solving some of our most vexing social, economic, political and environmental problems, we need the full range of talent from all of our communities to engage in this important work," Gallardo said.
In response to racially charged campus demonstrations, the University of Missouri System Board of Curators created the chief diversity officer position in November 2015. It hired Kevin McDonald to fill this role on its Columbia campus. His position will commence June 1.
McDonald said he plans to meet with students, faculty, staff and the chief diversity officers at the affiliated campuses —  located in St. Louis, Kansas City and Rolla, Missouri — to gather information to develop a strategic plan that would identify initiatives to address activist groups' demands.
"I'm going to come in and have an opportunity to really meet with students and faculty and staff and chief diversity officers at respective institutions, and then from that information, really work hard to develop a strategic effort forward," McDonald said.
Hired in 2009, Alfreda Brown is the first vice president for the Division of Diversity, Equity and Inclusion at Kent State University. She previously was the interim chief diversity officer at the Rochester Institute of Technology. She has contributed to creating initiatives to combat Kent State's long history racial issues.
Brown contributed to the Equity Action Plan that was created at Kent State six years ago. She said they are at the end of their plan.
"We have a variety of initiatives that have been completed, or they are in motion," Brown said.
Part of the plan was to bring in more students and faculty of color. She said that in 2012, they brought in eight faculty members of color, the highest number of faculty in one year in the history of Kent State. This was made possible by annual attendance at recruitment conferences, building relationships with prospective faculty members, a six-year plan that supported retention, tenure and promotion for new faculty and the creation of a faculty search committee, she said.
In a span of six years, Brown said, the university wanted 14 percent of the incoming freshman class to be students of color. Two years ago, it surpassed this goal with 16 percent. This was due to a new enrollment process put in place to broaden the reach for diverse students. Brown said they also increased the GPA requirement, recruited from 'untapped markets,' like Puerto Rico, and ensured cultural and academic programming.
"There are all kinds of things within these six years that I think have had phenomenal success areas," Brown said.
Ervin said he also thinks a centralized position is a more effective way of accomplishing goals towards diversity, inclusion and equity.
"I think if you don't have a dedicated officer that's responsible for the institution's diversity agenda, you're not going to move as quickly nor accomplish as much," Ervin said.