The Ithaca College Faculty Council and Benjamin Rifkin, provost and vice president for educational affairs, are reviving conversations around improving the current system of Shared Governance at the college.
According to the American Association of University Professors, Shared Governance systems call for shared responsibility among the different components of institutional government and its specification of areas of primary responsibility for governing boards, administrations and faculties.
Faculty Council Chair Peter Rothbart, who is also a professor of music theory, history and composition, said the administration has primary control over the budget, while the faculty has primary control over academics, and Shared Governance does not mean all members of the college community will have equal say and power in decision–making.
"Students have a special role. Yes, they should be heard. Yes, they should give input," he said. "But there are issues in permanence … experience, expertise and knowledge. It is accepted that students are not at that level. Faculty have power over students, and so it is fundamentally an unequal situation."
The council created a task force to looked into the question of Shared Governance in May 2013; it completed its study in September 2014. Rothbart said at the time faculty members were having problems communicating with the administration.
"There were real questions about how much the administration was listening and being responsive," Rothbart said. "I think even faculty were a little lost about exactly as to how we could affect things. It wasn't clear that our current system was working."
Rothbart said since then, communication with administration has improved.
The Faculty Council's study, detailed in the report from the Shared Governance Research Task Force, includes three potential governance models to improve on the current structure. In order to move forward with discussion on the three models, the council is working with Information Technology Services to set up a system on Sakai to receive input from faculty.
"The intent was that Faculty Council would review the document and then open it up for faculty comment," Rothbart said. "In the process, I have realized that we have no common way for faculty to comment on anything as a whole."
Rothbart said the Sakai system will be functional in the coming weeks, and then the report will be open for comment from faculty for two to three weeks. Additionally, Rothbart said the council is working to get information about all college committees posted online for public access to better lines of communication at the college.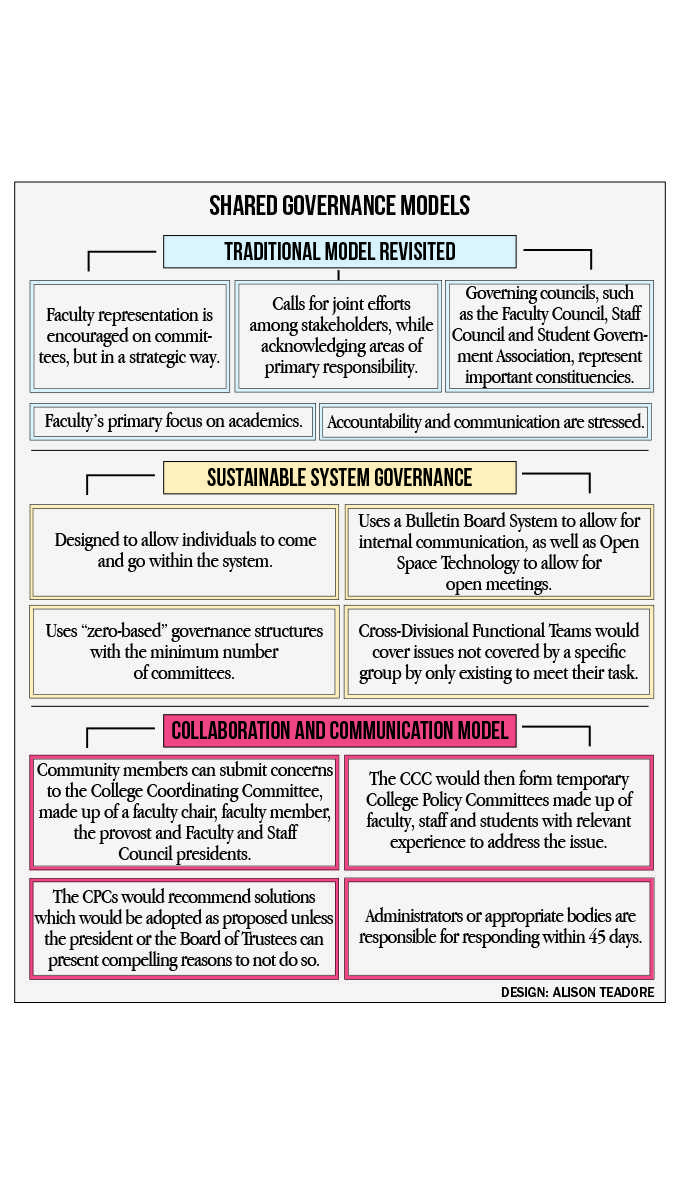 The task force was organized in 2013 and originally had a deadline of Jan. 1, 2014, set for its study. Rothbart, himself a member of the task force, said the faculty and administration involved are "just exploring the options." and have not proposed anything yet.
The first Shared Governance model detailed in the report is called "traditional model revisited," which builds on the college's current system. Rothbart said the current system is not broken but needs to be revised due to its lack of central communication among committees at the college.
"Not all of the different committees are reporting to each other," Rothbart said. "Our communication is not as effective as it should be. We all need to clean up our act."
The traditional model revisited calls for more effective use of electronic methods to improve communication.
The other two models outlined in the report are called "sustainable system governance" and "collaboration and communication."
The sustainable system governance model would take advantage of an integrated Bulletin Board System to allow for internal information sharing, as well as Open Space Technology to allow for periodic, facilitated, open meetings.
The collaboration and communication model would allow for any member of the college community to submit a concern to a body called the College Coordinating Committee, which would then form a College Policy Committee made up of faculty, staff and students to address the issue. Once a proposal is made by the CPC, administrators and other appropriate governing bodies would be required to respond within 45 days.
Rifkin has met with Student Government Association members, Staff Council and Faculty Council to discuss the concept of Shared Governance since arriving at the college this summer. Rifkin said he participated in a Shared Governance system at The College of New Jersey, where he worked six years prior to his appointment at the college.
"I saw time and again that proposals that were submitted for campuswide consideration by a community member in one stakeholder group were substantially improved by analysis and discussion by others, including members of other stakeholder groups, before resulting in the adoption and implementation of a new policy, procedure or practice," Rifkin said.
Staff Council Chairman Sean Reilley said in his experience, the college's upper administration has always been willing to speak with the Staff Council's executive board. However, he said an expanded role for Staff Council, as Reilley said Rifkin mentioned at the Staff Council's annual retreat, would be greatly appreciated.
"Hopefully with this shift, we can have important conversations," Reilley said. "A lot remains to be seen, but I do see those types of interactions improving from what's already a good situation for us."
Senior Dominick Recckio, president of the SGA, said he hopes a governance model would help student voices reach the right departments and encourage greater transparency across the board.
"We've seen instances of not knowing where to go — not knowing who to talk to," Recckio said. "And this could be a really knowledgeable entity to make sustainable and legitimate change."
Rothbart said once the Sakai system is set up and feedback is received from faculty members, the council will review the feedback and then send it along with the study to the administration for consideration.