On Wednesdays, generations collaborate as children from the downtown Head Start program, students from Ithaca College and older adults share story time at Longview.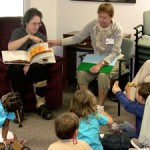 Kaaren Remley and Kathy Davies, recent stroke survivors, work as a team at the Ithaca College Center for Life Skills, a stroke rehabilitation program at Longview. Remley is trying to recover mobility of her left arm while Davies is working on gaining back her verbal communication skills.
The Center for Life Skills, an innovative multidisciplinary program, began seven years ago when Ithaca College Physical Therapy Professor Renee Brown realized the need for a multidisciplinary stroke rehabilitation center not only in Ithaca, but also in central New York.
Catherine Gooch, program manager at the Center for Life Skills, said the rehabilitation center stemmed from Brown's idea and grew when others from different specialties combined their skills.
The center was first funded by a program initiative from the college through the School of Health Sciences and Human Performance. When it was successful, the college agreed to give annual funding to the Center for Life Skills.
The rehabilitation program runs Monday, Wednesday and Friday mornings. The Center for Life Skills is run primarily by Ithaca College professors and student volunteers in the fields of occupational, physical and recreational therapies and speech pathology.
Participants commute both locally and from Cortland, Elmira and Binghamton in order to access the Center for Life Skills' unique specialized therapy rehabilitation program.
Victoria Munsterman, a speech-language pathology graduate student, volunteers at the center two days a week. She said the cross-generational program is an empowering experience for stroke victims.
"As adults, they still have a lot of knowledge and experience, so they get to work with the kids, and it makes everybody feel good," she said.
Gooch said several volunteers are needed every day to keep up with the participants in the program.
"A typical day is usually pretty busy," Gooch said. "Usually the participants come in, they start a group activity, … then they break off into one-to-one or small group therapy sessions where they work with students on their goals."
Currently there are between 25 and 35 Ithaca College students volunteering for academic credit, but the number of students involved varies each semester. Gooch said the students are extremely valuable not only to the program, but also to the participants.
"A stroke affects everyone so differently," she said. "Some people can even drive here to the program, and they're looking forward to going back to work. Other people have to have their family drive them. They're working on maybe keeping their head up for ten seconds … so what they need is very different."
Gooch said that without the large number of volunteers that help the program, specialized therapy would be extremely difficult.
"Because we have so many students involved, they're assigned to work with that individual and work on their goals," she said.
Senior Ashley Martel, a therapeutic recreation major, said volunteering for the program provides students with critical experience for their careers.
"It's very beneficial because it gives you a real-life approach," she said. "
Martel said that the student volunteers and participants benefit from the multidisciplinary method.
"[Participants] get a little bit of each piece of the pie," she said. "We all work together to make sure
everything comes together as a whole. We really communicate a lot between the disciplines."
Bill Shoch, an Ithaca resident, has benefited from the one-on-one therapy with the student volunteers for the past three years. He said that the program allows him to help the students as well.
"My experience here has been very positive all the way— the care of the faculty and the students learning on the spot instead of reading out of the book," he said. "And we're teaching them things too because it's a two-way street."