For one night, Ithaca College students stepped away from their lives online to listen to one of the entrepreneurs who helped pioneer the very social network that enthralls nearly 800 million users.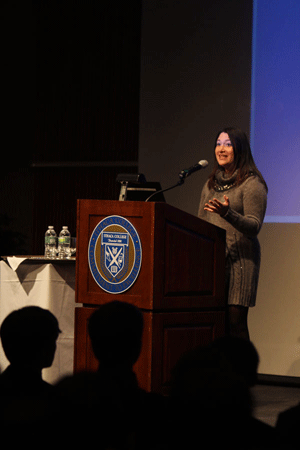 Randi Zuckerberg, former Facebook marketing director and Internet entrepreneur and older sister of Mark Zuckerberg — Facebook's co-founder, CEO and president — spoke to a large crowd in Emerson Suites Wednesday night as part of the Roy H. Park School of Communications Distinguished Visitor Series. A simulcast of the speech was broadcast in IC Square as Emerson Suites was full to capacity.
Dean Diane Gayeski introduced Zuckerberg, commending her instrumental role in creating a new culture of social media.
"Many of us in this room live in two worlds — the virtual and the real," Gayeski said. "It's actually nice to see so many of you here in the real world."
Zuckerberg said she was impressed with the conversations she had with students earlier in the day and thanked the college for its welcome.
"It was probably the most tweets and Facebook messages I've ever received going into a speaking engagement," Zuckerberg said.
After six years at Facebook, Zuckerberg recently left Facebook to start her own media firm, R to Z Media, which plans to teach companies how to effectively use social media to promote their products and services. She said she expects her new company will launch next winter.
During her speech, Zuckerberg told brief stories about her involvement with Facebook. She recounted when she visited her brother and picked the logo during the initial stages of the company. Zuckerberg said working at the company allowed her to take part in many diverse opportunities.
"In one day, I'd be working with a major financial institution about using social media," she said. "Then I'd be on the phone with the president of Haiti, talking about how to respond to the earthquake and working with the White House on something, and we'd be working with a brand advertiser, and then we'd be hosting Katy Perry talking about her album and launching it on Facebook. I kid you not. We would do all those things in one day. There was a day where I was like, 'Um, hold on, the White House is on the phone.' Who says that in their day-to-day life?"
Zuckerberg said the key to Facebook's success is its consistent ability to be social, citing the photo and gaming options on the site as engaging features that connect its users, even if they might not be the most visually appealing.
"Always think how you can make something more social," she said. "In many ways, being social is even more important than having the most spectacularly beautiful product that's out there."
Zuckerberg also advised the crowd to create engaging content similar to a conversation. She then shared 10 trends in social media with the audience, which ranged from telling authentic, relevant stories to building a loyal audience.
Meaghan O'Donnell, a junior integrated marketing communications major, said she thought Zuckerberg stood out from previous speakers because she tailored her presentation to how students could effectively use social media.
"She seemed so friendly and conversational and approachable," O'Donnell said. "I felt like I could easily go up to her and ask a question."
Before taking questions from the audience, Zuckerberg emphasized the significance that social media plays in current events and everyday life.
"We're looking at a world where people have a voice for the first time in events like Arab Spring where they would have been voiceless before," she said. "To have spent the last six years having such a front-row seat in these world events, to seeing the role that social media plays in our lives, and to now being in a place where there are entire college majors being created around what we worked on, is extremely flattering and extremely exciting."