The previous three games for the women's soccer team had its coaches and players holding their breath, but the Bombers can now breathe a collective sigh of relief as they prepare for the national stage.
After losing their final regular season matchup against Rochester Institute of Technology on Oct. 27, the Blue and Gold won two pressure-packed games in the Empire 8 Conference tournament to earn the automatic qualifier into the NCAA Division III championship tournament.
Junior Amanda Callanan, who was named the tournament's most valuable player, scored the go-ahead goal in penalty kicks to break a 0-0 tie with Nazareth College in the conference championship game Sunday on Carp Wood Field. Callanan said the South Hill squad wasn't nervous during the decisive shootout, even after it fell one goal behind the Golden Flyers.
"It was a tough spot after [junior back Anna Gray] missed, but we practice penalty kicks so much in practice that we were ready for that situation," Callanan said.
Becca Salant was in the net the entire game and shut out the Nazareth offense through 110 minutes of play. In an interesting turn of events, the Bombers turned to backup junior goaltender Becca Lewis for the penalty kicks. After Callanan scored to break a 2-2 tie, Lewis proceeded to stop three shots in a row to win the game for the South Hill squad.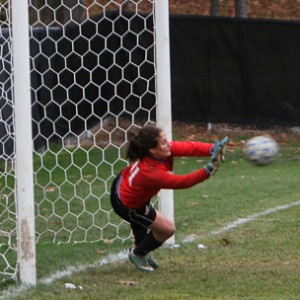 After the game, Lewis said she was confident through her practice preparation for penalty kicks and knew the team believed in her to get the job done.
"All season I need to be ready to go when they need me," Lewis said. "I did my best to read the shooters and got a lot of confidence after stopping my first shot."
The win against Nazareth not only guaranteed the Bombers a chance to play in the NCAA tournament, but they also get to host the first two rounds. The Blue and Gold will play the University of Massachusetts Boston, which boasts an 18–2 overall record, in the opening round Saturday morning on Carp Wood Field.
UMass Boston Head Coach Amy Zombeck said it is a difficult first matchup considering that both teams have closely matched records.
"[Ithaca] presents a good challenge for us, and they have experience, especially making it to the Final Four last season," Zombeck said. "We need to limit their offense and make sure we can control the game the way we want to."
Scranton University and Bowdoin College will also play on Carp Wood Field for the opening rounds of the tournament. The Bombers defeated Scranton in a 3-2 overtime comeback Sept. 8. Head Coach Mindy Quigg said the Bombers' home field advantage should help the squad get through a difficult section of the bracket.
"We've played our best soccer here," Quigg said. "We have more time to practice on our own field now, and we don't have to worry about losing time to travel."