Geary consistently had some of the track and field team's best times in the 1,500-meter run, winning the Empire 8 conference championship in the outdoor event with a season-best time of 3:59.67. But he finished ninth in the six-kilometer run at the Oswego Invitational and didn't complete the 8-kilometer run in cross country.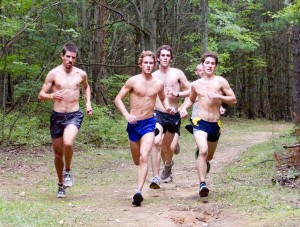 Head Coach Jim Nichols said Geary entered the cross country and track and field programs built like a middle distance runner, having more speed than endurance.
"David could probably run a 50.4 100-meter, whereas a 10,000-meter runner can maybe run 58 or 60 seconds for a quarter all out," Nichols said. "As he gets stronger, the speed from the middle distance just allows him to excel."
Geary said the 8-kilometer races in college required him to conserve more of his energy as opposed to the 5-kilometer races in high school.
Geary also suffered injuries early in his college career, missing time in the fall of his freshman year with tendinitis in his left knee and a pinched tendon in his right foot  during his sophomore year.
For Geary, the early injuries were both mental and physical setbacks. But this fall, a growing sense of comfort, along with running longer distances and increasing his offseason training, have helped him become one of the Bombers' top cross country runners this season.
He was the team's top finisher in the season-opening Jannette Bonrouhi-Zakaim Memorial Run, completing the race in second place. He finished fifth at the Oswego Invitational, with a personal best of 27:07.11, and finished 26th out of 105 runners at the Penn State Spiked Shoe Invitational on Saturday. His time of  27:52 was third out of the six Bombers who competed.
Geary said the early success has left him more optimistic about his chances to contribute to the team this fall.
"This year's a better year for me already," he said. "This summer I had a couple good months of training and nothing really set me back."
As part of that summer training, Geary and most of his teammates traveled to Ithaca for a couple of weeks to train with seniors Daniel Craighead and Jacob Brower.
Brower said Geary's speed and dependability are assets that motivate the team. He said Geary encouraged them to work harder during offseason training by running on the hilly roads off campus more often.
"If you're running together, you're not going to be like 'Oh no, I'm going to go a half-hour shorter than you are'," Brower said.
Geary said that the shorter length of track and field is reflected in the training.
"If you're training to run one mile instead of five for your main event, you have to do a lot more speed work, explosive activity and more upper body strength as well," he said.
Even with his career-best race times this season, Geary knows he has areas to improve on, including mental toughness when running a longer distance.
"Keeping my mind focused for 25, 26, 27 minutes is a lot different than keeping it focused for just four," he said.
Nichols said Geary has grown into a team leader by recognizing his responsibilities as a team veteran.
"When he was a freshman, he was learning the ropes and trying to figure out what was going on," Nichols said. "Now that he's in an upperclassman role, he feels a responsibility to perform well for the team."