The Ithaca College women's cross-country team is coming off a successful 2014 campaign in which it took home the Empire 8 Championship and made a name for itself at both the NCAA Atlantic Region Championship and the NCAA National Championship last year.
Head coach Erin Dinan and assistant coach Carly Graham, who together won 2014 Empire 8 Coaching Staff of the Year, are looking to build off of last season's fifth place in Regionals and 31st in Nationals.
"I expect that our team will be nationally competitive again, as we have been for the past three years," Dinan said. "It's a goal to qualify our team for the Division III National Championship again this year to keep the tradition running. In addition to that, it's always important that we see individual growth in each athlete, building upon previous years of running."
Despite losing six seniors — many of whom were large contributors to the team's success — the Blue and Gold will still have a strong senior class to look to this season, including captains Michaela Cioffredi, Rachelle Sartori and Anna Fay, leading the way.
Fay, who was named to the All-Empire 8 Second-Team and the All-New York State Collegiate Track Conference Second-Team last season, said she's most excited to meet her new teammates and create a strong team dynamic similar to years past.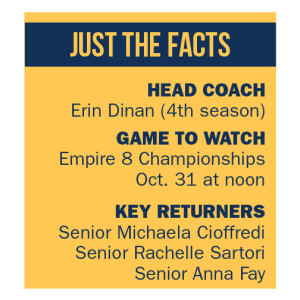 "We have some great freshmen coming in," Fay said. "It's always nice to have new faces and distinct personalities. Everyone brings something different to the team."
Although the Bombers have high expectations from others to defend their Empire 8 Conference Championship this time around, the pressure doesn't seem to be a concern for them, seeing as upholding the cross-country legacy seems to come naturally, Dinan said.
"It has been such a tradition that we are regionally and nationally competitive that I believe it's ingrained in our athletes to want to continue that," she said. "We have athletes who want to compete and strive to do their best, not only for themselves but also for their teammates — both of which have been an incredible drive for our team to achieve their goals."
While winning seems to be the Bombers' top priority, it is also clear that it's not their only focus. The emphasis on teamwork and unity, as expressed by the coaches and players, including Fay and sophomore Alexis Kindig, is another one of the Bombers' main goals as they approach the upcoming season.
"Our team is like one big family, and I think that really pushes us at each meet because we don't want to let each other down," Kindig said. "We're big on listening to each other and using that feedback to push us even more. I think the team atmosphere is definitely what got us to how far we've gotten in the past two years."
Fay said how victorious the team is this season will primarily depend on the team's camaraderie.
"We care a lot about sportsmanship, keeping a positive attitude and keeping our close team bond," Fay said. "When you have a really great team dynamic and relationship, then the success will fall into place afterwards."
The South Hill squad, known for running steadily as a group during meets, believes this close-knit attitude to be a strength that has also helped the team dynamic and led to success over the years, Fay added.
Also on the Blue and Gold's radar this season is another team trip to Nationals. Over the past three years, the Bombers have made three consecutive appearances at Nationals, and this season is predicted to be no different. If things go as planned, Dinan said, the Bombers will also potentially make an appearance at another meet.
"There's a strong possibility our team will be traveling to the Pre-National meet in Wisconsin this year," Dinan said. "That would be an incredible opportunity for our team to experience excellent, out-of-region competition and preview the National Championship course."
Before the team gets to that point, it will be focusing on something else: beating rival St. Lawrence University. The Saints have defeated the Bombers for years, and now Fay said the Bombers are hoping that this fall will finally be their time.
"We're always trying to beat St. Lawrence," Fay said. "They're a very good team, and I think that's always been our goal. Anytime we get to compete with them, that's awesome because they push us along and give us better times and places."
First up on the Bombers' schedule is the Jannette Bonrouhi-Zakaim Memorial Alumni Run on Sept. 5 at the college. In the weeks following, the Blue and Gold will travel Sept. 12 to Saratoga Springs, New York, for the RPI Invitational, followed by a trip Sept. 19 to Rochester, New York, for the Rochester Yellowjacket Invitational.
As the Bombers continue to work hard, both off- and in-season, with a workout plan that includes varied-distance runs, speed and endurance training, and lifting, Dinan said they are confident they will stand out among the rest of their competitors this upcoming season and take home another Empire 8 title.