His long fingers curl around the neck of a bass guitar, each one slowly striking the strings to ensure precision. At first, he slips, repeatedly hitting the wrong note. He tries again, fails. But he does not give up. The volunteers in the room watching his every move encourage the resident to try again. Rising from the plastic chair, he moves to the piano. Palms down, he rests his fingers on the keys, mimicking the melody he attempted to play on the bass. One time, two times, three times. He remembers. The plain and empty room seems to come alive with energy as the resident returns to the bass, recalling the melody and striking the chord with perfection.
The Human Expression through the Arts: Resident Development Program is a student organization that provides weekly creative arts programming for residents from age 14 to 20 at MacCormick Secure Center, a state-run juvenile justice facility that houses up to 39 residents, in nearby Brooktondale, N.Y. The purpose of the group is to promote healthy self-concepts and coping skills through the creative arts.
HEARD's founders, senior Matt Honold and Samantha Underwood '12, formed the group this semester after a pilot course in African Drumming and Music Education at the college ran short of funds. Baruch Whitehead, associate professor of music education, taught this course, which also consisted of student-led workshops at MacCormick, both semesters of the 2011-2012 academic year.
During the fall semester of the pilot course, students learned traditional West African drumming and performance practices, and taught them to residents at MacCormick. In the spring, students learned the lyrics to popular American songs like "The Lion Sleeps Tonight" by The Tokens, and their instrumental parts. At the end of the year, residents performed the musical steps, lyrics and instrumentals to an internal audience of students from the course and MacCormick staff.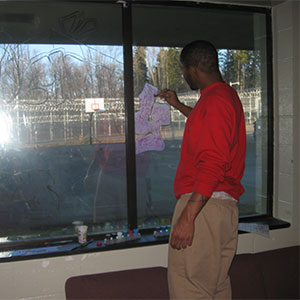 Underwood was also enrolled in the African Drumming and Music Education pilot class and said it inspired her to continue working with MacCormick residents through an independent study project. She also said it exposed her to an alternative form of education not traditionally taught in the James J. Whalen School of Music.
"The music education program at Ithaca College is top-notch, however, I feel that it's teaching you to teach in a suburban public school," she said. "Doing this has allowed me to see alternatives in what I can do in my field and connecting my interests — I'm an artist, I'm a musician and I like to dance — and also my passion for community service."
Underwood said the success of the programming at MacCormick enabled her to receive financial assistance from the MacCormick Community Advisory Board, which received a grant to create a one-year part-time position for Underwood to teach at the center. Since the beginning of the year, Underwood has been co-teaching a creative arts course with Honold twice a week. This is in addition to weekly volunteer outreach with HEARD every Monday night.
The funds currently supporting the twice-weekly class will run out by June 6. However, Underwood said student volunteers will meet the need until another grant is secured.
"HEARD will be fulfilling the void of creative arts for residents while our class cannot continue," she said.
However, the student group also faces a challenge that may jeopardize the viability of HEARD's continued outreach. Honold said the majority of its student members are graduating, including himself. But he plans to stay in Ithaca to support HEARD.
"I will continue to volunteer once a week at MacCormick after our job is over teaching music and art," he said. "I'll be here to generate support and awareness and interest in the HEARD program."
Patricia Spencer, assistant professor of writing, is the adviser for HEARD. She also teaches a proposal and grant writing course, in which teams of students work with a community partner to develop a grant proposal requesting funds for a specific program or project of the organization. This semester, one team was assigned to HEARD and developed a proposal requesting $20,000 along with institutional support to continue creative arts programming at MacCormick.
Spencer said the student energy and support for HEARD's creative arts programming encouraged her to assign the group's current need for funds as a project in her writing course. She said it allowed students to work on a real problem that has the potential to make a big difference.
"They're trying to solve a problem and also meet an opportunity," she said. "If you think about it, that is the core of what IC 20/20 is about. It's interdisciplinary conversations built around real-world problem solving."
Senior Shayna Dunitz, a member of the team assigned to work with HEARD this semester, said she was attracted to this project because of the service learning aspect. This, she said, was also a strategy the team used to solicit funds.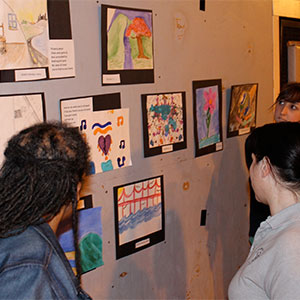 "We knew we'd get a lot more support being able to link it with IC 20/20 and integrated curriculum and interdisciplinary and service learning and the Office of Civic Engagement," she said.
The proposal itself suggests creating a yearlong course for the 2014-2015 academic year. Each block, a professor with a given expertise in creative arts would teach students enrolled in the class. This would rotate throughout the academic year, giving students the opportunity to learn from four professors from different creative arts backgrounds.
Underwood's commitment to creatives arts through service learning has modeled the type of teaching the HEARD course hopes to achieve. Residents at MacCormick have written lyrics to the tunes of "(Sitting On) The Dock of the Bay" by Otis Redding and "Lean on Me" by Bill Withers and created new renditions of the songs. Accompanied by bass guitar, piano and drums, the lyrics reflect the daily realities of the residents. But the music presents a more positive outlook that symbolizes the group unity needed to overcome the hardships that come with incarceration.
Dunitz also said this course will also teach students how to be culturally sensitive to the issues of juvenile incarceration. She said she hopes professors from the sociology department and the Center for the Study of Culture, Race and Ethnicity will step up to prepare students enrolled in the course to be culturally sensitive.
"It's not just in the classroom, it's time in MacCormick," Dunitz said. "It's being able to teach students service learning and being able to teach them to to teach others that may not have their background."
Underwood said this programming is critical, because it gives the residents a positive outlet and a creative form of expression.
"To give the residents an opportunity to see themselves in a positive way and be proud of something that they do — since they have been told so often that what they do is wrong or bad, or that their lifestyle in general is wrong or bad — it's a really great opportunity for them."
But without external funds or the sustainability of HEARD, Underwood said, residents may no longer have this type of creative arts outlet, because the state's educational budget currently does not provide funds to hire people to teach creative arts programming.
Underwood said the educational schedule only provides writing classes to help residents pass the GED or Regents.
Honold said his experience with HEARD has opened up a space and created mutual understanding between two different populations of youth, which has also informed his goals for the future.
"You develop a lingo, you become more comfortable with the culture," he said. "Also, just being exposed to such a different situation from where I'm coming from has really informed my goals for life. I have set my plans for after graduation to involve some sort of community development social outreach initiative."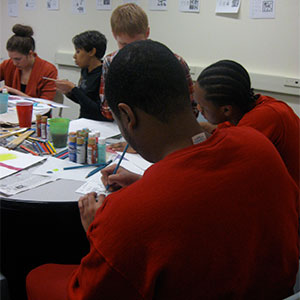 To conclude the semester, HEARD organized a final creative arts performance at MacCormick on May 8. The group invited members of the college's Step Team and Spit That! to perform for residents. The evening began with spoken word followed by a step number. Residents later participated in a workshop where the Step Team taught a body rhythm sequence. To conclude the night's program, everyone in attendance sang the lyrics residents wrote to "(Sitting On) The Dock of the Bay" and "Lean on Me" earlier this year. Artwork that residents had recently created to visually represent their verses was on display while the group sang their lyrics. 
Dunitz said students like Honold, who has benefited from his involvement with HEARD, will want to take the course because of its service-learning component.
"Ithaca College is a campus where people want to give back," she said. "Students want to do service learning; they want to be engaged in the community; they want to learn."
Spencer, who is also part the Service Learning, Design and Implementation faculty team for the Office of Civic Engagement, said one of her responsibilities is deciding how to make sure the college's mission drives its community partnerships. Spencer said HEARD is an exemplary partnership because it gets back to the essence of Ithaca College.
"It started as a music conservatory, and we still have this component of wanting our students to appreciate the value of the creative arts," she said. "If we were to take IC and its strengths and its missions, and put it up against a whole variety of partnerships, this is one that, to me, seems like a natural fit."