The Academic Policy Committee has approved Ithaca College's new Integrative Core Curriculum, according to an Intercom release penned by Marisa Kelly, provost and vice president of academic affairs.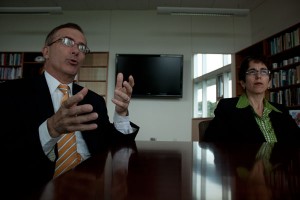 The APC voted unanimously to approve the proposal Friday, according to Kelly. Earlier last week, Danette Johnson, director of the core curriculum, announced in an Intercom release that the ICC had passed faculty votes in each of the five schools facilitated by the Committee on College-wide Requirements.
With the APC's approval, the Provost's Office will now package the core curriculum plans for submission to the New York State Department of Education. The ICC will pilot this fall with a seminar requirement for many incoming freshman before its full implementation in Fall 2013. The ICC, if officially approved by the state, will establish the college's first all-campus general education system.
The ICC comes as a result of pressure from the college's accrediting body, the Middle States Commission on Higher Education, and years of collaboration between faculty and administrators.

To learn more about the ICC, read our March 22 cover story as part of our ongoing series examining the facets of IC 20/20, the college's vision plan for the next decade.