The Ithaca College Gerontology Institute hosted Kathy Greenlee to discuss the politics of aging Thursday night in the Park Auditorium as part of its spring semester Distinguished Speaker Series.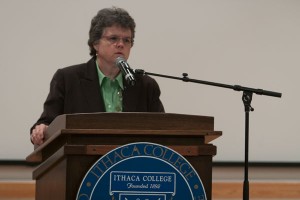 In front of a mixed crowd of students, professionals and the elderly, Greenlee discussed laws currently affecting gerontology practices.
First passed in 1965 and currently up for reauthorization, the Older Americans Act was designed to help older people live in their homes longer through community programs like Meals on Wheels. Greenlee said it was more expensive for the elderly to move into nursing homes if they didn't require that level of living assistance.
Increased communication between local communities and federal aid giving programs, Greenlee said, will better facilitate health care for senior citizens.
"What we're seeing now is the groups are beginning to work together, and this is harder than you think it is," Greenlee said. "Geriatricians look at the picture holistically to treat their patients."
She mentioned how geriatricians, or health professionals who focus their care on older people, can provide better care for their patients when they examine patient history, specifically whether they had a caretaker, and if they were able to use all of the patient's health information. With this knowledge, doctors can determine the best course of treatment.
Greenlee said though Medicare and Medicaid budgets have increased over time, the budget for the Older Americans Act has remained stagnant.
Rhoda Meador, director of the ICGI, said the Institute invited Greenlee because of her background in policy. Greenlee serves in President Barack Obama's administration as the assistant secretary for aging services in the Department of Health and Human Services.
Meador said their speaker series exemplifies their program's initiatives to keep the college informed about problems facing those in the gerontology field today.
"For the past 12 years, the Institute has brought to campus over 50 distinguished speakers and visiting scholars who have interacted with classes as well as spoken to large campus and public audiences," Meador said.
Freshman Makenzie Holmsborg, an occupational science/therapy major, said Greenlee's speech caused her to think more about the role of federal health programs, such as Medicare and Medicaid, in the U.S.
Amid recent changes in the health care industry, Greenlee said the integrative movement would improve the health care process and ensure better medical care in the future. By partnering local and federal health programs, she said patients would be better guided through the medical system.
"This is the future," Greenlee said. "And it has already arrived through a couple different doors."