Buffalo Street Books is the oldest and last independently owned bookstore in Ithaca. The staff, calming music and bright, open space has always made the store stand out, but now it's preparing to shut its doors for good.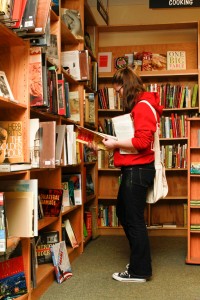 The bookstore has been around for 35 years and was formerly known as The Bookery, a bookstore owned by Jack Goldman.
Gary Weissbrot bought the store in 2006. After keeping the store thriving for five years, he is being forced to close in four to eight weeks because the shrinking customer base isn't sustaining the store's expenses.
Weissbrot said the store closing is a loss for the community because independent bookstores help by providing jobs and boosting the local economy.
"Everybody who works here lives in this community," Weissbrot said. "The profits stay in this community, but if you buy online the money goes out of the community."
Weissbrot said approximately two-thirds of independently owned bookstores that sell new books have closed in the past five years, but he thought he could resist the trend.
"I felt I might be able to turn that around," Weissbrot said. "We've kept it open for five years and made a lot of changes by trying to get the colleges involved more in the store."
Weissbrot said he encouraged Ithaca College and Cornell University professors to send their students to the local bookstore. He said though professors and graduate students are the most frequent customers, the sales from them aren't enough to save the store.
Weissbrot said some professors at the colleges order books for their classes through Buffalo Street Books to bring customers to the store and keep the money in Ithaca.
Mary Beth O'Connor, assistant professor in the writing department, ordered books for her classes through the bookstore this semester. O'Connor said students could order the books ahead of time and would not be charged tax or shipping because it was through an independently run bookstore. Though this option was available to the students, O'Connor said some still bought the book online instead.
"It's a very different experience to shop in a small store and being able to talk to the owner that is a citizen in the same community you are," O'Connor said. "It loses individuality online or in some big store. If students don't ever walk into a bookstore, they are definitely missing something."
Senior English and writing major, Krystal Marsh, said that she has been getting books for classes from Buffalo Street Books since she started at the college and likes shopping there.
"My professor freshman year gave us the book list for the course and told us that we were required to go to Buffalo Street Books downtown to get them, to support a local business and get out and about downtown" Marsh said. "I've been going to the bookstore for my classes ever since and whenever I'm downtown, I make sure to go."
Weissbrot said there are more students buying their books online to try to save money, which contributed to the steady decline in sales because fewer people are going to bookstores.
"The students don't come down the hills to buy books from the store anymore," Weissbrot said. "The Internet has wiped us and every other bookstore out."
Weissbrot said buying a book online doesn't give the customer the experience of shopping at a local bookstore and being able to talk to passionate employees about books while browsing through the store.
Marsh said the bookstore experience is being surrounded by books. She said the bookstore also gives students a chance to learn outside of the classroom, like when O'Connor gave a reading at the store last semester, which Marsh attended.
"There's a personal quality in this store that you just don't get in big chain stores and especially online," Marsh said. "It also gives professors and students the opportunity to interact off campus and share their work."
Buffalo Street Books sells books that are found on bestseller lists as well as books that are distinctive in the Ithaca community because they are written by members of the community. In addition to selling their books, local authors also conduct readings and book signings at the bookstore.
"Independent bookstores are a reflection of the town," Weissbrot said. "We sell books that will interest the people of Ithaca and books from local authors."
O'Connor said Buffalo Street Books is a valuable to the area because of the community atmosphere — signings, readings and local events.
Marsh said the bookstore has held a special place for her throughout her years in Ithaca and helped her experience the community.
"I think this is a great loss for Ithaca," Marsh said. "It's been a landmark for me since I was a freshman, because it was the first place I actually went to downtown by myself."
There is no official date for the store to be closed, but Weissbrot said it will close in four to eight weeks. There will be a lot of sales in the next few weeks to sell as many books as possible. The sale will also include the desks, bookshelves and tables throughout the store.
"It was a great run and it is a loss for me, my staff and unfortunately for the community," Weissbrot said.