The list of professors at Ithaca College who were awarded tenure for 2015–16 was announced Feb. 21. However, missing from the list were the names of the professors who POC at IC demanded be given immediate tenure.
People of Color at Ithaca College called for the granting of immediate tenure to Nia Makepeace, assistant professor in the Department of Education; Derek Adams, assistant professor in the Department of English; and Sean Eversley Bradwell, assistant professor in the Center for the Study of Culture, Race and Ethnicity, at the Dec. 11 "Demands Walkout." The walkout was held to present the group's demands to President Tom Rochon to address racial tensions on campus.
Receiving tenure requires a six-year process that analyzes a professor's excellence in teaching, professional activity and service. Tenure promotion ensures a professor's position for life at their college or university. There is an early tenure option for some professors if they come to the college with existing credit from prior experience, which allows them to start halfway through the process.
Currently, 11.7 percent of tenured faculty at the college are members of minority groups. According to the Office of Human Resources, there were 247 tenured faculty at the college in 2014–15, of which only 29 were minorities — 11 Asian, six black, 10 Hispanic or Latino, and two Native American. Of the 110 faculty members who are currently tenure-eligible, nine are Asian, six are black, eight are Hispanic or Latino, and five are Native American, with some indicating they fit into more than one categories. One did not report their ethnicity.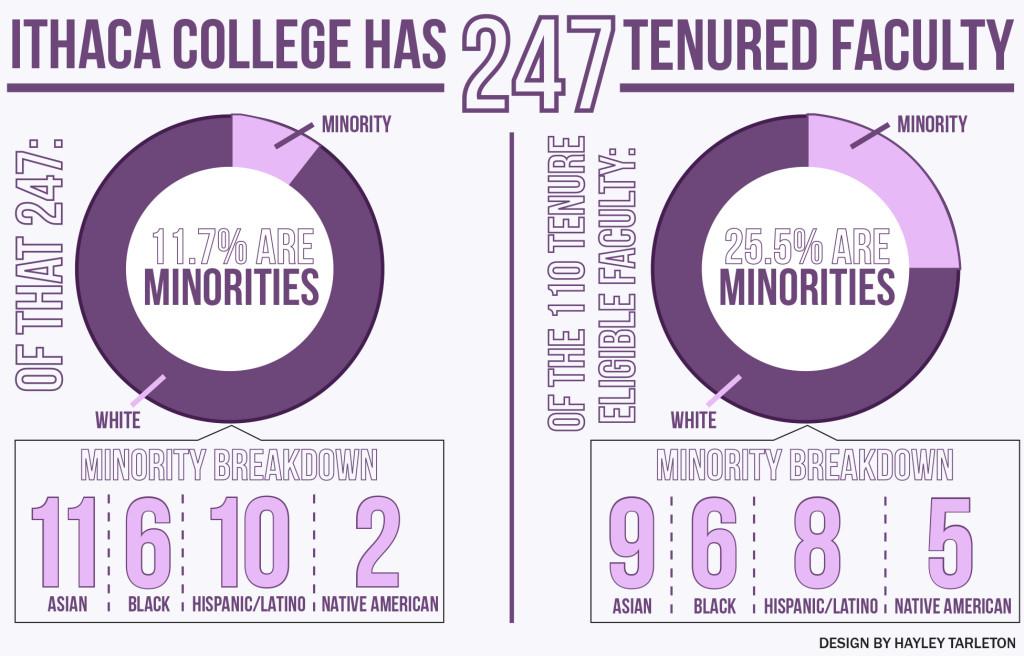 In 2007, Cynthia Henderson, associate professor in the Department of Theatre Arts, became the first African-American woman to receive tenure at the college. She said the first-ever African-American to receive tenure at the college was Julian Euell, associate professor in the Department of Sociology, who was granted tenure in February 1980.
Henderson said she thinks the lack of minority representation among tenured faculty comes from a national cultural problem in the way professors of color are viewed.
"I don't think there needs to be a new policy per se, but I think there needs to be an adjustment in the way … professors of color are viewed as colleagues, as equals, as intellectual equals," Henderson said.
While POC at IC did not respond to requests to further discuss the tenure demand, Adams said he thought the demand was made to protect professors of color on campus from being dismissed for their participation and support for racial topics brought up in class and on campus.
"There are national cases that are going through litigation right now that involve people whose tenure has been revoked, or who have been denied tenure, largely for an ideological position that they occupy or for a racial identity that they have," Adams said.
As recent as 2009, numerous professors of color have filed discrimination lawsuits at Emerson College for being unfairly rejected for tenure. DePaul University also came under fire in 2010 for unfairly denying two minority professors tenure. According to the Department of Education, in 2007, in the United States, only 4.6 percent of tenured professors were black.
Benjamin Rifkin, provost and vice president for educational affairs, said he understands the concerns students have for professors of color that they may feel close to on campus.
"There is no possibility on this campus that a faculty member would be dismissed for expressing controversial views," Rifkin said.
Adams, who is in his fourth year of tenure review, said he does not think the demands POC at IC made about his tenure were unrealistic, explaining that just because giving professors tenure outside of the strict six-year process hasn't been done, it doesn't mean it couldn't be done. He said he found that critique of POC at IC deflating and that change does not happen unless demands are made outside of the status quo. Despite this, he said he does not want to stray from the standard tenure process.
"I feel, personally, that I want to earn my spot here at Ithaca College the same way that all of my colleagues have, and I imagine that I will," Adams said.
Brad Hougham, chair of the All-College Faculty Tenure and Promotion Committee, said efforts to diversify faculty come from the initial search and hiring process. Hougham said granting immediate tenure jeopardizes a college's credibility.
"Ithaca College does not exist in a bubble. We are accountable to institutions and to our students and to our own future," Hougham said.
One of those institutions Hougham referred to is the Middle States Commission on Higher Education. Middle States is a regional agency that assesses the quality of a higher education institution, determining if the college can give federal financial aid and degrees from an accredited institution. He said part of the college's accreditation review deals with how it handles tenure and promotion, and giving a professor immediate tenure could risk the integrity of the process.
Makepeace, who is in her third year of the tenure process, said she is concerned about the lack of professors of color who have tenure at the college, and how without those professors, students of color might not feel like they have a safe space with people who can understand their struggles.
"It wouldn't be possible to give me immediate tenure. However, feedback and support from students is a critical element of the decision-making process," Makepeace said. "Undergoing the formal review process is an important professional opportunity."
Eversley Bradwell declined to comment for this article.