As the IC Breakers step onto the hardwood gym floor for their weekly practice, their senior co-captain Ninjong "Jo" Lu arrives fully prepared to run the show. With music in his headphones and choreography on his mind, his confidence gives him the ability to lead the team and create its routines.
"Did everyone read the Facebook message I sent out?" Lu asked as the team began practice.
"Wait, there's a new one?" sophomore John Thievon said. "Uhh…"
"I am the only one who English is their second language here, so I figured you could all read it," Lu said to his laughing teammates. "It is about the song for the performance, just to make sure you guys are OK with it."
"It's OK Jo, we trust you," junior Ilana Miller said.
Lu works with junior co-president Kody Crawford to have fun and inspire the IC Breakers at practice, but Lu didn't always have this much of a presence on the dance floor.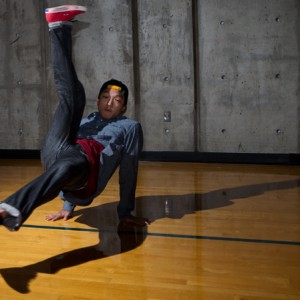 Lu was born in Cleveland, where he lived for the first two years of his life before his family moved back to Taipei, Taiwan. Lu attended an international school known as Taipei American School, where he learned English.
During middle school, Lu was introduced to cross country and track and competed throughout middle school and high school. After his high school friend, John Lin '12, referred him to Ithaca College, Lu contacted Head Coach Jim Nichols about running for the track and field team.
"He contacted me as an athlete that had competed in Taipei and wanted to be involved in the track and field program, so I wrote him some letters about looking at Ithaca College," Nichols said. "He came off like he had a quiet personality and was very laid back and to himself."
Eventually, Lu chose to attend Ithaca College. After a 23-hour plane ride from Taiwan, spanning more than 7,300 miles, Lu finally arrived in Ithaca. Lu said he was both excited and apprehensive about college in America.
"I was excited, but I was also nervous and lost, because I was not sure about myself, but I was definitely excited, because it was a new chapter of my life," Lu said.
To ease his transition to Ithaca, Lu joined IC Breakers, the on-campus break dancing team, and the college's track and field team. IC Breakers allows student break-dancers, also known as b-boys and b-girls, from across campus to come and practice under the guidance of experienced upperclassmen. Lu said the language and cultural differences from Taiwan made it difficult to adapt at first, but IC Breakers gave him a group to identify with.
"When I saw the group for the first time, it was more of like a home setting with them, even though they are not from Taiwan," Lu said. "I feel closer with them than some other people, because I can relate to them through breaking."
Lu's love for break dancing grew quickly, and he did all he could to learn more about it. During his summers back in Taiwan, he worked on choreography and performed with friends who danced in productions in the inner city of Taipei. Lu has also traveled to competitions in Boston, New York City and Philadelphia to learn more choreography.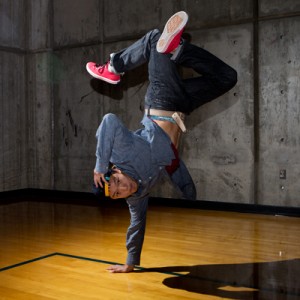 When he started, Lu said, he was not comfortable enough with himself to dance in front of other people. However, at the start of his junior year, with the help of a fellow IC Breaker, his confidence finally grew, giving him the "swagger" he needed to not only succeed in b-boying but to pursue other goals as well.
"A friend told me that for everyone to be good, you have to start somewhere," Lu said. "And when I started to get that feel, I started watching videos and talking to other people and gained more and more confidence."
At the same time, Lu was also finding his footing on the track. During his first two seasons as a Bomber, Lu competed in distances ranging from 800 to 3,000 meters for the indoor and outdoor track teams. At the end of his sophomore season, he noticed the distance runners who also ran for the cross-country team greatly improved their times in both sports. With his self-assurance from breaking becoming a bigger part of his life, Lu decided to join the cross country team to keep up with the rest of his teammates.
Senior captain David Geary said Lu came into his first cross country season as a junior with enough courage and determination that he assumed a role as a great competitor and great leader in no time.
"He was an upperclassman, so he already knew the guys and knew the type of training that we did, so he really immersed himself in it," Geary said. "He was definitely confident in himself, and it allowed him to grow quickly, be a great contributor to the team and hold the role as a leader really well."
This fall, Lu dropped 29 seconds off his personal best in the 8,000-meter cross country distance when he clocked in at 27:23.06 at the New York State Collegiate Track Conference championships Oct. 20.
Crawford said Lu's newfound belief in his own abilities has made a world of change in his dancing and in his desire to learn more, but it was also demonstrated in his increased involvement with the team as a co-president, choreographer and participator.
"When he started, he was coming around to practice every once in awhile," Crawford said. "But in the last year or so, he's become more confident, and now he is always here."
Sophomore John Thievon, a first-year b-boy, said Lu has influenced him greatly, because he is not only a phenomenal dancer but a moving teacher as well.
"He keeps reminding me you need to master the basics and create your own variations off of that to make your own style," Thievon said. "Watching him dance makes me want to go dance, because he is the biggest inspiration to me."