Under dozens of flashing lights and pounds of make-up, queens and kings will rule this weekend. But these royally talented performers don't sit on thrones — they sing and dance.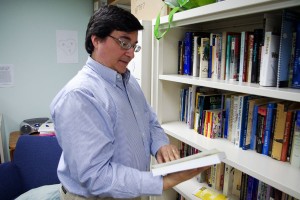 Prism, a student organization focused on sexuality, gender identity and gender difference, will present Lipsyncing for Life, to benefit the Trevor Project, a national organization that provides crisis intervention and suicide prevention services to LGBTQ youth. The drag show and dance party will be held from 12 to 3 p.m. Saturday in Emerson Suites as part of LGBT Awareness Month.
Sophomore Colton Bready, secretary of Prism, said he has performed in drag for several years. When he learned about the lack of drag on campus for the past couple years, he said, he decided to organize a show. After attending the monthly pride parties at Delilah's on Cayuga, which has since closed, he realized that while many of the events benefitted an LBGT cause, there was never one focused on bullying and harassment. He wanted to support an organization related to suicide prevention because it is a concern locally in Ithaca, nationally for LGBT youth and personally for him.
"I lost a friend in January to suicide back home," Bready said. "He was bullied and harassed leading up to the event. Even though he was out of high school, and the Trevor Project is aimed at kids ages 13 to 18 — middle or high school — college kids need it, too. People forget that."
Tyler Clementi, an 18-year-old Rutgers University student, committed suicide in September 2010 after learning that his roommate secretly used a camera to broadcast a romantic encounter Clementi had with another man over the Internet. Last month, Clementi's roommate, Dharun Ravi, was found guilty on all 15 charges he faced.
The event is open to all ages and is free, but donations will be accepted to benefit the Trevor Project, which operates phone hotlines and online messaging services for young people in crisis.
"You don't have to donate to it, but if you do, you will be helping to save kids lives across the nation, whether they're gay, straight or whatever," Bready said. "The Trevor Project doesn't just help queer youth — it helps anyone who needs a voice."
Bready and sophomore Benjii Maust will appear as hosts Cat Von Doll and Kora Zone, respectively. The hosts and nine other queens, men as women, and kings, women as men, will perform to a mix of tunes, ranging from country to heavy metal rock. Junior Will Shishmanian and senior Maggie Gallagher will also play live music at the show.
Maust, president of Prism and a staff writer for The Ithacan, has assumed the administrative authority in planning the event, and Lis Maurer, program director of the college's Center for LGBT Education, Outreach and Services, has assisted the pair as the interim adviser for Prism and said their teamwork was essential.
"They each bring a different skill set to this project that is really important," Maurer said. "Benjii is very much on the logistical, concrete, policy and procedure — that sort of end of things — and Colton is very much into the artistry. You can't do a drag show without both sides. … They're both phenomenal."
The event will be followed Saturday evening by Dancing for Life, the LGBT prom, in Clark Lounge. Both events are part of LGBT Awareness Month, referred to as Gaypril. Maurer pointed out that there has been an LGBT student organization presence since the 1970s, and she's proud this legacy continues, with four student-led events this month.
Sophomore Linda Harrison, treasurer of Prism, said the event will be both enjoyable and beneficial for all involved.
"There are going to be some really talented people. … It's really just a fun environment," she said. "It's supposed to be a fun event that helps out as well and brings awareness to the gay community."
Bready will not only get to perform at his own college on Saturday, but also help those in need know they have support.
"Over spring break, I got two tattoos on my back," Bready said. "The purple ribbon for bullying and the yellow ribbon for suicide to show, 'We might be crazy, but we will listen to you, and we will help.'"