Members of the Ithaca College administration are in the process of meeting with staff members in departments that experienced cuts through the college's workforce analysis to debrief on how employees are adjusting. Some of these departments say they are experiencing heavy workloads as a result of understaffing.
Fifty-nine staff positions were cut in 29 departments at Ithaca College since August 2013 through the workforce analysis initiative before it was announced at the Jan. 21 All-College Meeting that filled positions would no longer be cut.
According to a document from the Office of Human Resources, 41 of the cut positions were already vacant — some for more than five years — while 16 of the cut positions were occupied. Personnel who were cut from occupied positions were offered a severance package.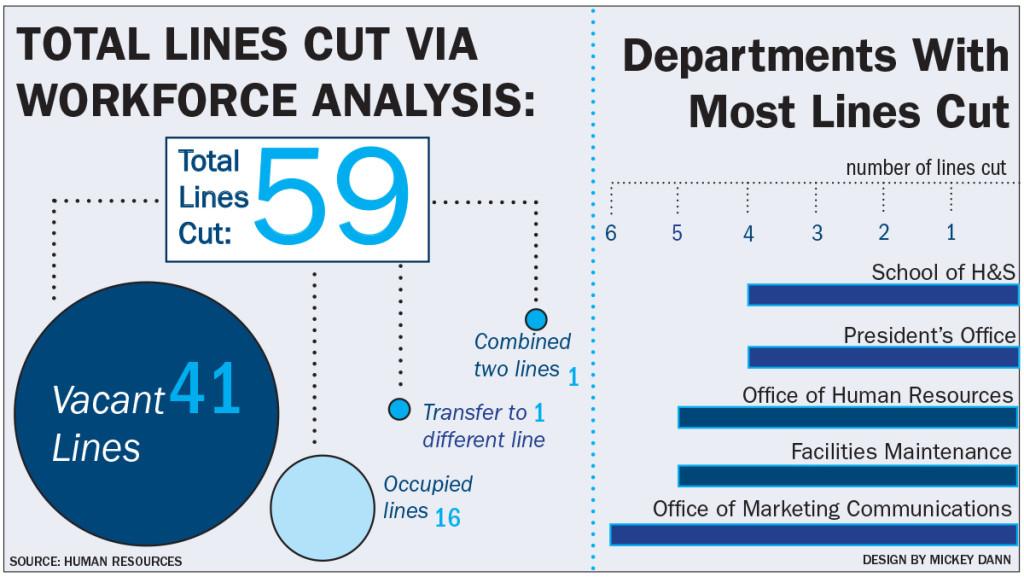 The severance package plan includes a three- to eight-month salary, which is dependant on the employee's years of service. Medical insurance for employees given severance and their families is included for up to one year, and the college also provides assistance from Human Resources in finding a job within or outside of the college. Tuition remission — a waiver for a portion of the tuition costs for children and spouses of college employees — is included for dependents who are currently enrolled at the college for up to 24 months.
Nancy Pringle, senior vice president and general counsel for the Division of Human and Legal Resources, said Human Resources assessed different departments, focusing on vacant positions, then decided whether or not some positions could be eliminated entirely.
Cindy Reckdenwald, director of compensation and workforce planning, said the entire campus was assessed, but departments like Human Resources, Digital Instruction Information Services and facilities were highly impacted by the analysis.  
Pringle said the process included looking at the different positions in each department and office and seeing if there were any redundancies in positions. The process included vice presidents' talking with units in the next level down about potential ways to reorganize staffing.  
"'What's changed? What are we doing differently that maybe we don't need X doing this particular set of duties, but we do need a position doing this?'" Pringle said. "Or there are ways too , because of technology, where we don't always have to do things by hand."
In the Office of International Programs, two positions were offered severance: the assistant to the assistant provost and the administrative assistant. Tanya Saunders, associate provost for international programs and extended studies, said the severance was unexpected.  
"To all of us, it was a surprise. We were very sad and unhappy," Saunders said. "It happened right before Thanksgiving. There was little turnaround time."
Saunders said two new positions in the office were created: operations coordinator and director of extended studies. She said the office is working on understanding the cycle of operations so they can pull together and meet each goal.
Pringle and Reckdenwald said the real challenge is speaking with personnel in the departments and offices, not just the supervisors, to see how people are doing with the changes. They have been inviting people in to speak about their experiences and to give Human Resources a chance to address staff members' concerns, and they expect these meetings to be completed by the first week of April.
"We open it up for them to ask us questions so that maybe we can dispel rumors or misunderstandings, and so we've been very open with them and answered their questions," Reckdenwald said.
She also that said once the process of the workforce analysis initiative began, some of the staff "shut down" due to concern for their jobs.
"These meetings that we're having with the staff are eye opening and so packed with great information and really helping us to understand what we could have done different, what we could have done better, and what we will do going forward and how we can have more transparency and engage in dialogue with our staff," she said.
In the Office of Facilities Maintenance, there were three positions cut that have been vacant for more than two years. Tim Carey, associate vice president for the Office of Facilities, said the preventative maintenance functional unit was merged into the heating, ventilation and air conditioning department to enable operational efficiencies around both routine and preventative maintenance tasks. He said it is an organizational model that was in place at the college in prior years and that the transition back to this approach has been successful.
"I want to emphasize that there are no current positions within facilities that are going to be eliminated," Carey said. "The hardworking and dedicated staff members in the facilities department provide critically important services, and I want to ensure that they understand this point."
In the Office of Strategic Marketing and Communications, six positions were cut — all of which were vacant. These positions include marketing communications manager, director of client marketing services, graduate programs marketing coordinator, writer/editor, marketing analysis and manager of print production.
Jennifer Campbell, associate vice president for marketing communications, said the department is currently handling too much compared to its staff size and is in need of more people to fulfill workload needs.
"They're really working pretty hard, working outside normal hours and handling a lot of work for each other and all those things that happen when you're short staffed," Campbell said.
For a full list of departments impacted by staff cuts, view this PDF.