Ithaca College continues to be affected by staffing shortages as the college rebuilds its leadership departments and deals with staff, faculty and administrative turnover because of the effects of the COVID-19 pandemic.
The effects of the national labor shortage and the "Great Resignation" have impacted colleges and universities across the country throughout the ongoing COVID-19 pandemic and created low levels of faculty, staff and administrative retention.
The College and University Professional Association for Human Resources (CUPA-HR) found in a July 2022 Higher Education Employee Retention Survey that 35% of higher education employees are likely or very likely to look for new employment opportunities within the next year.
"These results indicate that higher[-education] institutions are at risk of losing half of their current employees in the next year," the survey stated. "In addition, the problem of retention appears to be getting worse rather than better."
According to the college's Office of Analytics and Institutional Research (AIR), the college had 1,096 administrative and staff positions in Fall 2019, 827 in Fall 2020 and 896 in Fall 2021. There were 708 faculty positions in Fall 2019, 646 in Fall 2020 and 537 in Fall 2021.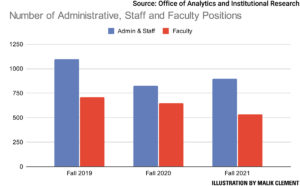 The Academic Program Prioritization (APP) process that began in September 2020 included the ongoing cuts of 116 full-time equivalent faculty positions and 26 majors, departments and programs. A focus of the APP was to realign the student and faculty ratio at the college.  In Fall 2020, the student-to-faculty ratio was 9.4:1, while in 2021, the student-to-faculty ratio increased to 9.7:1.
There have been notable changes in administrative positions at the college in the past few years, including Bill Guerrero, former vice president for finance and administration, who departed in February 2021; former President Shirley M. Collado who stepped down in August 2021 and left the college in January 2022; Rosanna Ferro, former vice president for student affairs and campus life, who departed in June 2022; and Hayley Harris, current vice president for human resources and planning, who will begin a new position at the University of Chicago Oct. 6.
Steven Gordon, associate professor in the Department of Media Arts, Sciences, and Studies and a member of Faculty Council, said that he thinks the high rate of turnover is expected to happen in difficult economic times that were exacerbated by the pandemic and that he feels like the administrative turnover is a good thing.
"I think the past administration made some mistakes," Gordon said. "It was difficult for that administration because they ran into the pandemic. But you know, there were things that we felt could have been stronger. And this administration, I think, recognizes that, and I mean, every new management team brings in people they think can do the job they think needs to be done that hasn't been done as well as it could be in the past. And I think that's what's going on. So I think to me, the outlook is brighter."
Recent changes to the college's administration include La Jerne Cornish assuming the role of the president at the college in March 2022 after holding the interim role since August 2021. In June 2022, Bonnie Prunty was appointed as vice president for Student Affairs and Campus Life and Marsha Dawson was appointed as Dean of Students. Provost Melanie Stein served as an interim since August 2021 and assumed the role in March 2022. Quincy Davidson is now serving as the interim vice president for the Department of Philanthropy and Engagement following Wendy Kobler's departure in July 2022.
The college now has a complete leadership team for academic affairs, following the 2020–21 and 2021–22 academic years where multiple positions — including three dean positions for the Roy H. Park School of Communications, the School of Business and the former School of Music, which has since merged with the Department of Theatre Arts to become the School of Music, Theatre, and Dance — were held by interim roles.
Odalys Diaz Piñeiro, chief of staff for the Office of the President, said the college has been working to fill administrative positions and is continuing to recruit faculty and staff.
"Our intent is to ensure that critical academic and administrative leadership positions have the right people in place to provide appropriate planning and oversight for their respective areas of responsibility," Diaz Piñeiro said via email.
Lower numbers of staff have impacted a variety of areas at the college, including dining and services offered by the Tompkins Consolidated Area Transit, Inc. (TCAT), while some departments like the Center for Counseling and Psychological Services (CAPS) and Eco-Reps have gradually rebuilt their staff.
Vadim Serebryany, associate professor in the Department of Music Performance and a member of Faculty Council, said the amount of turnover in departments across campus — as both an effect of the APP and as a result of faculty leaving for personal reasons — has made it harder to predict what will happen at the college in the future.
"I think at times that either people in pivotal roles are very new and don't always know all the ins and outs of their new roles because they've just arrived because we've had so much turned around, or certain offices are understaffed and … things take longer to happen than one might have wished," Serebryany said. "That's all understandable. It's understandable how we got to this place, and the repercussions are also understandable and predictable, but they present challenges."
Paloma La Valley, a sophomore at Barnard College in New York City, said one of the main reasons she decided to transfer from Ithaca College after her first year was because of the lack of faculty and resources available in the Department of Politics, which was heavily impacted by the cuts made as a part of the APP.
"I hadn't been made aware by IC students, or even by my own research, that the politics department was actually one of the departments that was … gutted pretty, pretty intensely," La Valley said. "I really had no way of knowing until I actually got there and spoke to the professor who said my intellectual curiosity will be better supported elsewhere simply because of the lack of resources."
Sophomore Angelica James said she thinks the lower number of faculty has impacted the number of courses offered at the college.
"I had a friend who wanted to try and minor in screenwriting and they couldn't because there is no more room left in the minor because they don't have enough professors to teach classes and open up more sections," James said.
Serebryany, who has worked at the college since 2016, said he thinks the atmosphere on campus feels different than it used to.
"It just doesn't feel like a vibrant place to come to work," Serebryany said. "And hopefully that will change. I don't mean to imply that we're kind of stuck on this trajectory. … Maybe that culture will change."
Prunty said a significant goal she has in her new role is to bolster stronger morale among the staff.
"[Something] I'm really excited on focusing on is really just kind of restoring a sense of, kind of, pride and community, particularly among the staff and the employees that work in the division of student affairs, because with several COVID[-19] years — where many people were working remotely, and many staff have turned over — it's a nice opportunity for us to kind of rebuild and reestablish our team as well," Prunty said.
Rachel Gould, senior director of study abroad within the office of International Programs and Extended Studies, said the office has dealt with staffing issues since 2015, when the Office of International Programs merged with the Office of Extended Studies as a part of a workforce consolidation.
Gould said she feels that a silver lining to the staffing issues across campus is that faculty and staff are able to empathize with different departments and provide support.
"I think one of the good things about Ithaca College is we all understand that other departments are going through similar staffing issues," Gould said. "It helps us to be understanding about the challenges other colleagues on campus are facing, and I think one of the benefits is that we've learned how to support each other in different ways over these last couple of years."
Editor's Note: A previous version of this article incorrectly stated that Rachel Gould is the senior director for the Department of International Programs and Extended Studies. She is the senior director of study abroad within the Office of International Programs and Extended Studies.